Malone Alumna Named 2022 School Counselor of the Year and Middle School Counselor of the Year by OSCA
Alana (Sopko) Pustay '14 knows what it's like to be a student who works closely with their school counselor.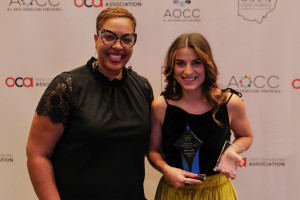 "I was a child with ADHD and dyslexia, and I worked with my school counselor from an early age. Early enough, in fact, that on my Kindergarten career day I said I wanted to be a school counselor," said Pustay. "I thought she was just awesome. As I got older I wanted to challenge myself and be in medicine, but I found with my educational challenges that it was really hard and I knew that a change needed to be made. I felt called to work with kids and in mental health, and so school counseling seemed like a very clear direction for me."
Graduating from Gannon University with a degree in liberal arts, Pustay was ready to take the next step in her journey of becoming a school counselor by attending Malone for her master's in School Counseling, completing classes at night while working as a substitute teacher.
"At Malone I met lifelong friends and some of my favorite professors. The small class sizes were really special and I loved the group activities and discussions." she said. "We had a semester of practicum and a year of internship in which I had to record myself in counseling sessions and play it for the class. Recording myself and having people watch and critique me was stressful; but it was very effective and everybody was really kind in their feedback and suggestions. It was a great experience."
Pustay worked at Claymont Intermediate School from 2015 to 2018, Louisville Middle School from 2018 to 2022, and has now transitioned to Manager of Counseling Services at Great River Connections Academy, an online, public K-12 school.
"The online platform works differently for everyone. I've transitioned from not only in-person to virtual, but from counseling middle schoolers to managing the counselors who counsel students K-12," she said. "So now I'm also learning high school graduation requirements, credits, and competency; it's a lot."
But it's not too much for Pustay to handle, and her professional efforts and success have not been overlooked. Pustay has been named the 2022 School Counselor of the Year and Middle School Counselor of the Year by the Ohio School Counselor Association.
"Counselors are nominated by their school district or another school counselor, and then they fill out data on what they're doing, their caseload, and what programs they implement; there is a lot of consideration that goes into the recipients," said Pustay. " As a student with ADHD and dyslexia, I always felt different and that I had to work harder to be taken seriously. So, it makes me feel so good to be recognized for the hard work that I do everyday. Supporting students, listening as they share their stories, and being the trusted adult in their life; that's more fulfilling than I could ever imagine."
While Pustay does not downplay her own achievements, she recognizes there's also great work being done by her colleagues across the counseling profession.
"I will say, I feel imposter syndrome at times. I had to ask, 'why me?' Everyone I know runs a great program. Every counselor I know works for the students' best interest," she said. "Although it feels validating to be recognized, I'm just a normal person. It's truly humbling."
At the forefront of Pustay's mind is her calling to care for her students with a genuine, relational counseling style.
"It's all about being authentic; once you start overthinking you lose students' attention and trust. They just want to be heard, so you listen, empathize, and understand them," she said. "Sometimes, yes, they need redirection and perspective, and then we can put everything back into context and help them work through difficulties. Through it all, though, it's key to balance reality and empathy with them."
Pustay also knows that you don't succeed without a solid foundation, and Malone was able to provide that for her.
"I loved Malone, and the experience that I received there was invaluable. I had some difficult professors but that's a good thing. The harder the professor was on me, the more critical and challenging that they were, the more they helped me rise to the occasion," she said. "I have goals and aspirations, and those professors helped me reach my fullest potential. They really shaped me into who I am as a counselor."
And Pustay's main goal and aspiration? Helping as many students as possible.
"I want to continue impacting their lives. I want to show families that seeing a counselor isn't a bad thing, and that it ultimately helps support our students. I do miss the personal interaction with them, which I don't have in my current role, but the reason I chose to transition into management is because I go from touching 200 lives to 1700 lives as I support the counselors who work directly with students," she said. "I want to continue to focus on widening my impact as much as possible. But who knows? Someday I might just really miss working with students and go back into the classroom. Is just like the saying goes, if you want to make God laugh, tell Him about your plans!"