Malone Coaches Speak at Ohio Association of Track and Cross Country Coaches
Under the expertise and wisdom of now Coach Emeritus Jack Hazen, Malone's cross-country and track and field programs have been blessed with a storied and triumphant history.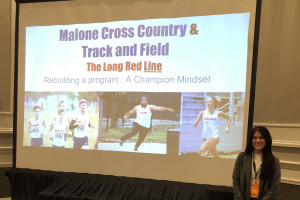 As time has passed, a change in leadership was the natural course of events, and now Tina Ryee, director of track and field and cross country, and Noah Schaub, head men's cross country and distance coach, are in charge of the next generation of Malone's distance programs.
"It's a lot of fun, but I never thought I would be in this position; it's a program with a lot of tradition and history. It's been very rewarding to be in this role after having been an athlete at Malone," said Ryee.
Ryee, in her third year as a full-time coach for the program, acknowledges the difficulty of the previous years while looking towards a bright future.
"Three years ago I became the women's distance coach, and I was a graduate assistant before that so this is my fifth year as a coach at Malone," she said. "I'm starting to see, during this third year, the fruits of my labor in performance and recruitment. I think people will see results as a collective group in the next year."
Ryee and Schaub had a chance to articulate these feelings at the recent Ohio Association of Track and Cross Country Coaches (OATCCC) Clinic in Columbus.
"It's a great event for all high school coaches to go to; they attend different sessions with a variety of guest speakers and learn valuable information," said Ryee. "It was a cool opportunity for our program to be on a platform while we're growing and rebuilding. We also introduced ourselves to high school coaches for recruiting purposes."
Ryee and Schaub delivered a multifaceted presentation, explaining the Malone Cross Country and Track and Field program's culture, goals, and training methodology.
"I talked about what I've done as a head coach and what we've done collectively as a young coaching staff. Noah spoke with me as well. I explained that we're rebuilding and how that process is working," said Ryee. "I took that information and applied it to great effect during our symposium for high school coaches. One of the main things we covered was team culture, because no matter what you need to have a culture and know who you are. That's been my main goal the last few years to establish who we are and what we stand for, and the collaboration of our coaching staff, like our assistant coaches Jeb Ford and Travis Morgan, has been paramount. "
"My role during our presentation was on the specifics of our training philosophy. I went in depth on where we get our training ideas from, how we specifically train our athletes on a weekly basis, and even went into the physiological aspects and background of how we train our student-athletes here in our program at Malone," said Schaub.
At the core of the presentation was Ryee and Schaub's commitment to the team culture of developing excellence in every facet of their student-athletes.
"Our slogan is 'pursue excellence.' I came up with that slogan based on the longstanding roots that Coach Hazen developed in Malone track and field, which extend beyond pursuing excellence in sports to every aspect of the student athlete," said Ryee. "We pursue excellence on the track, in the classroom, in relationships, in everyday life, and by being the person you want to be outside of your athletic career and accomplishments. Our program represents the total development of the student athlete. We care about character development and challenging our student-athletes to become better in every facet of their lives. It was great to show high school coaches that we care about their athletes holistically."
"We were able to show high school coaches that we are knowledgeable about all aspects of coaching. High school coaches want to know that the student-athletes who graduate and move onto collegiate athletics are transitioning into the hands of proven and highly knowledgeable coaches," said Schaub.
In the days ahead, both Ryee and Schaub hope to be able to continue cultivating excellence within their programs, and showcasing that excellence to the great running community through both presentations and program performance.
"We hope to return to the OATCCC clinic next year and have plans on being involved in a greater capacity. As young coaches now leading this program, Coach Ryee and I are excited and extremely hopeful about the future of Malone Track and Field and Cross Country," said Schaub.
"The biggest thing we gain from talks like these is having people know who we are, rather than just seeing our performance and judging us based on that. We are judged on our character and who we are and what we represent. I know how passionate high school coaches are, and it means a lot to them to have their athletes going to a program that really cares about them," said Ryee. "We've recently been having school records broken and athletes putting up personal bests. We know having confidence in your leaders and methodology is key, and we want to continue to cultivate that."