Malone graduates win 2022 DAISY Award for Extraordinary Nurses
Carlee George '22 and Renae (Rodocker) Snyder '98, '22 have both been awarded a 2022 DAISY Award for Extraordinary Nurses.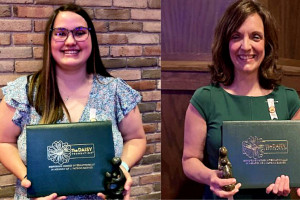 The award, given by The DAISY Foundation, an organization that honors nurses internationally, recognizes nurses who provide exceptional compassionate care to their patients, according to their website. The DAISY Foundation, which stands for Diseases Attacking the Immune SYstem, was founded by the family of J. Patrick Barns who passed away at the age of 33 due to complications of Idiopathic Thrombocytopenic Purpura.
George was the bachelor's recipient, and Snyder was the MSN recipient of this year's award.
George, described by her professors as hardworking and supportive, earned excellent clinical evaluations during her final year of schooling. Additionally, according to the DAISY Foundation's award announcement, "In her personal life, this student also took care of her grandma this fall during a time when she was acutely ill."
Snyder, who will go on to be a Family Nurse Practitioner, according to the DAISY Foundation's award announcement, exhibited extensive care "talking with her patient about her patient's concerns, helping the patient problem-solve… and discussing relational issues that were contributing to the patient's health concerns."
Each student was recognized by their professors and presented the award at the 2022 Malone Nursing Pinning Ceremony, held in Malone's Johnson Center during Commencement weekend.
For more information about Malone University's nursing program, please visit malone.edu/nursing.

Additional information about the DAISY Foundation and award can be found at daisyfoundation.org.