Malone honored for tree stewardship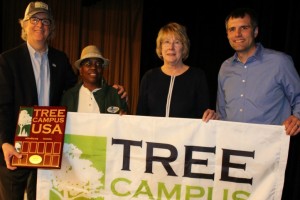 While serving Malone University as a professor of botany, Charlie King sparked a love of learning and a passionate interest in trees among his students. One of the students he connected with was Cynthia Johnson who would graduate from Malone in 1970, become an academic, and return to the university to carry on King's legacy.
"Charlie had a passionate following among students," said Johnson. "He taught us all how to identify different species of plants and trees. He was also responsible for planting many of the unique trees found on the campus today."
Johnson has been the catalyst behind Malone's recent acquisition of a national honor, designation as a Tree Campus USA institution. The designation is made by the Arbor Day Foundation and recognizes institutions which effectively manage their campus trees, develop connectivity beyond campus borders to foster healthy, urban forests; and strive to engage their student population in service learning opportunities centered on campus and community forestry efforts.
"Malone has a wonderful story to tell with regard to the trees found on campus," said Johnson. "Many of the trees found on campus have been planted by students through the generations. When Malone moved to Canton in 1957, the land was a working farm, so trees were absent. Through the years students have planted trees which now each have a story about the students and the university at that time."
Johnson and students recently identified every tree on the campus, part of the research which led to the Tree Campus USA designation. Additionally, Johnson, a lecturer in Natural Sciences, recently worked with Assistant Professor of Biology Jason Courter to use GPS technologies to map out the campus.
"Now that we have every tree mapped out, our plans include creating posters for tree lovers that would provide information on each of our trees and a tree walk, which would allow elementary and high school students to come to campus, take a walking tour, and have some hands-on learning experiences," said Johnson. "We are also going to create a poster that would be of interest to nature lovers in an effort to tell the Malone history through the trees found on campus."
Johnson has been assisted with the work by recent graduate Brendan Cress '16, senior Austin Cary, and Mike Goff, professor emeritus from Indiana Wesleyan University.
Lola Lewis from the Ohio Department of Natural Resources visited the Malone campus recently to present the Tree City Campus designation to Johnson, Courter, and Malone President David King.
"An enormous amount of work has been completed to earn the Tree City USA designation honor," said King. "It serves as a badge to external audiences and says that we care about our trees and campus and recognize that learning that can be achieved because of the work of professors Johnson and Courter."