Malone hosts fourth annual Pioneer Open Disc Golf Tournament
Saturday, May 12: the Northeast Ohio Disc Golf Alliance's Summer Series kick-off event for 2018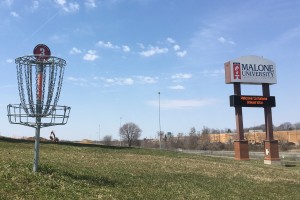 Malone's fourth annual Pioneer Open Disc Golf Tournament, held on Saturday, May 12, is open to disc golfers of all skill levels. All proceeds will go toward expansion onto Pioneer Park.

Malone's disc golf course was completed in 2010 as the senior class gift, and has grown as a popular attraction for both Malone students and the community.
Malone Disc Golf Coach Tyler Schrock '11 is passionate about the sport that captured his interest while he was a student on campus. Schrock is the coordinator and founder of the Pioneer Open and is a sponsored professional disc golf player.

"The Pioneer Open is a great event for anyone who is interested in or enjoys disc golf," said Schrock. "From professional players all the way to beginners, the tournament provides everyone with a day of fun and competition."

The tournament will host more than 75 participants and will see players from all over the state of Ohio. Sponsors of the tournament include Buckeye Disc, MVP Disc Sports, Quonset Hut, and U Disc, many of whom have donated prizes and baskets to be given away at the event.

For more information or to register for the Malone Pioneer Open Disc Golf Tournament, contact Tyler Schrock at tschrock@malone.edu.
Media Gallery
Photos from the tournament