Malone prepares to renew Tree City designation by improving the campus environment
Malone fulfilled the requirements for a Tree Campus in 2017 with the support of Jason Courter, associate professor of biology and Cynthia Johnson '70. The campus Treewalk project (planned by Johnson and Mike Goff '66) continues Malone's certification and provides an educational experience for the community. Johnson petitioned the Collegium to name the Treewalk in honor of Charles King, professor of botany at Malone College from 1961-1972, who impacted many students to love God's creation. The Treewalk was dedicated on September 28, 2018.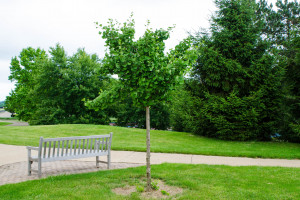 "Malone has a wonderful story to tell with regard to the trees found on campus," said Johnson. "When Malone moved to Canton in 1957, the land was a working farm, so trees were absent. Through the years, students have planted trees which now each tell a story about the students and the University at that time."
Malone initially gained national recognition by the Arbor Day Foundation for effectively managing the campus trees, developing connectivity beyond campus borders to foster healthy, urban forests, and for striving to engage the student population in service-learning opportunities centered on campus and community forestry efforts.
In order to receive recognition by Tree City, institutions must apply for certification, outlining their promotion and protection of trees on campus, as well as providing service-learning opportunities for students. The General Botany course completes annual assessments on trees in specific zones, created by Johnson and students, and mapped out by Jason Courter, associate professor of biology. Students assess the health and condition of Malone's trees, including the growth of the crown, stems, leaves, and reproductive structures, then calculate the monetary value for each one. As part of Malone's ongoing commitment to increasing the number and diversity of trees on campus, the committee also applied for grants to help plant more trees.
"The end goal is to create a mini forest at Malone by continuing to plant trees and expanding the greenery on campus," said Rebecca Eagle-Malone, adjunct faculty member in the natural sciences department. "Existing research shows that students exposed to nature experience improved mental health resulting in higher GPAs and an increased likelihood of staying in college. We intend to continue researching and combining different areas of study to help natural sciences understand the benefits associated with mental and physical well-being as a result of being outdoors."
Currently, the Tree Campus committee is working with the Psychology Club and several other campus organizations and individuals to bring about more connections to nature on campus.
"We are excited to see the progress we make in the coming years from our current Tree Campus team, including student leaders Jim Gresh '22 and Rebecca Oliphant '23," said Eagle-Malone.