Malone to offer summer workshops for area educators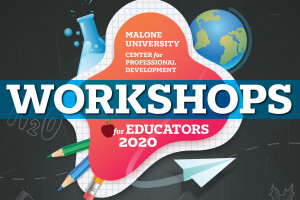 Malone University's Center for Professional Development is offering a full slate of workshops for graduate credit to educators this summer. Typically 1-3 credit hours, the programs provide an environment for professional conversation among a community of learners.
"Our quality educator workshops have been adjusted to fit the needs and topics of today's challenging times," said Nancy Varian, director of the Center for Professional Development. "We strive to be relevant and timely, meeting the needs of area teachers with topics such as best-practice strategies for teaching online, differentiation, mentoring and counseling, and content-specific workshops."
Courses are offered online, taught remotely, or taught in a dual classroom-remote format. Classes generally meet Monday through Friday between 8:30 a.m. and 3:30 p.m.
Learn about specific course offerings and cost at www.malone.edu/cpd.