Malone University announces 126th Commencement speaker
Judge D. Carla Moore to address Class of 2018; Moore to be awarded honorary doctorate degree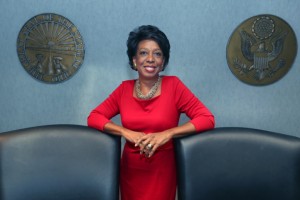 Judge Carla D. Moore, the first female African American elected to the Akron Municipal Court and the Ninth District Court of Appeals, will deliver the Commencement address at the Malone University Commencement ceremony scheduled for Saturday, May 5. The ceremony is scheduled for 10 a.m. at Faith Family Church in Canton. Malone University officials will award Moore an honorary Doctor of Laws degree for her service to her profession and her community.
Judge Moore did her undergraduate work at the University of Akron and earned her Juris Doctorate at The Ohio State University College of Law. Admitted to the Ohio bar in 1977, she worked in positions of increasing responsibility with the respected law firm of Buckingham, Doolittle & Burroughs and the Ohio Attorney General's Office where she served as the chief of the Appellate Division. She then went on to serve as a judge for 15 years on the Akron Municipal Court before her election to the Ohio Ninth District Court of Appeals.
"Judge Moore is a Pioneer," said Malone President David King. "She overcame racial barriers with her election to the Akron Municipal Court and numerous Northeast Ohio organizations have benefitted from her gift of time and expertise as a volunteer. She has served on more than two dozen boards and committees with significant time spent working on behalf of children in public school districts."
Moore was recognized in 2017 as the recipient of the Bert A. Polsky Humanitarian Award which is presented annually by the Akron Community Foundation to an individual or couple who best exemplifies the late Bert Polsky's selfless dedication to humanitarian causes in Akron.
"Judge Moore has made a difference in our community," said King. "Malone is just one of the many community organizations and institutions that have been blessed with her engagement and gift of time and counsel. At Malone, she has been active establishing relationships for the university with others who have an affinity for our environment in which faith and learning are integrated."
Moore and her husband, Dan, reside in Bath Township and have two adult children.