Malone University appoints Dr. Eric Young Vice President for Enrollment
Malone University has appointed Dr. Eric Young to the position of Vice President for Enrollment. Young comes to Malone from Walsh University where he serves as Director of Undergraduate Admissions.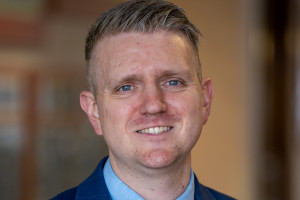 "Eric has a record of leading teams to meet enrollment goals and understands the Northeast Ohio market having spent the bulk of his career at Walsh and the University of Mount Union," said Malone President Gregory J. Miller. "His experience in Stark County will certainly be a boost to our recruitment efforts."
During his career, Young has served as an Admission Counselor, Transfer Coordinator, Assistant Director of Admission, Associate Director of Admission, and Director of Admission. His work in the enrollment field led to his current appointment as chair of the Association of Independent Colleges and Universities (AICUO) Recruitment Leaders organization.
"The higher education marketplace is very challenging and we were looking for someone with a documented record of success," said Miller. "Eric has that pedigree. Additionally, he is deeply committed to his faith and to Malone's mission as a Christian university."
Young completed his undergraduate education at Bowling Green State University. He went on to earn a master's degree and a doctorate in higher education administration from Kent State University. He and his wife, Katie, reside in Louisville and have three children.
Young will take on his duties as vice president at Malone on Monday, April 3.