Malone University Chorale ready to deliver Singing Valentines
Send your friend or significant other a unique Valentine on Thursday, February 14!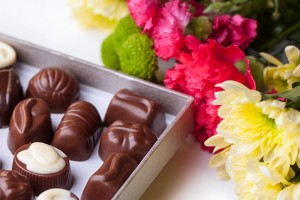 The Malone University Chorale will deliver their beloved "Singing Valentines" within a 30-mile radius of Malone between 9 a.m. and 6 p.m. on Thursday, February 14. Learn more or place an order at malone.edu/valentines.
YOUR VALENTINE WILL RECEIVE:
A carnation, courtesy of our friends at Cathy Cowgill Remarkable Flowers
A greeting card with a customized message from you
Homemade chocolate candy
A serenade by a quartet from the Malone University Chorale and Chamber Choir, dressed in formal attire
NEW "SPECIAL PACKAGE" OPTION IN 2019
If you want to go above and beyond to dazzle a loved one, the Malone University Chamber Choir now offers a Special Package option that includes the features above with the following upgrades:
The entire Malone University Chamber choir will sing a

full-length, romantic jazz standard

for your loved one. (Choose between A Nightingale Sang in Berkeley Squareor I'll Be Seeing You.)
An

entire box

of assorted chocolates will be delivered.
WHAT DOES A SINGING VALENTINE COST?
$5 for deliveries on the Malone University campus
$5 for singing telegrams (Singing Valentines by phone) to anyone within the continental United States
$15 for deliveries within Stark County
$30 for deliveries outside of Stark County, but within a 30-mile radius of Malone University
$50 for the Special Package (deliveries within Stark County only, please)
Additional donations are always appreciated and go to further the community outreach and service-learning opportunities of the Malone University Chorale and Chamber Choir.
WHAT IF MY VALENTINE LIVES OUTSIDE OF THE 30-MILE DELIVERY AREA?
For only $5, the students will deliver a "Singing Telegram" by phone to anyone in the continental United States.
Hear song choices and place an order today!