Malone University receives Vocation Across the Academy Grant in support of the Pendle Hill Pledge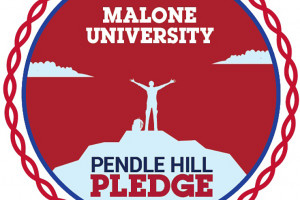 Malone University was recently awarded the NetVUE Vocation Across the Academy grant from the Council of Independent Colleges (CIC), with funds from the Lilly Endowment. The grant will provide a total of $50,000 for the first and third years of the Pendle Hill Pledge initiative (with second year support of $25,000 raised from Malone University donors).
Malone's Pendle Hill Pledge is the University's campus-wide commitment to provide opportunities for all students to find purposeful and meaningful lives and careers through personal reflection, one-on-one mentoring, required hands-on learning (internships, off-campus study, intensive research, or service-learning), and career skill-building in their required coursework.
"Our entire curriculum and co-curricular opportunities have long encouraged students to find meaning and purpose in the call to seek Christ's Kingdom First," said Greg Miller, provost. "We want to continue to equip our graduates for service in their churches, communities, and the world, and that begins with ensuring that all students are challenged and supported in finding their sense of purpose. This funding is a powerful affirmation of our Pendle Hill distinctive and good news to celebrate."
The Lilly Endowment's financial support will make possible tangible initiatives for students in each stage of their collegiate experience, including a symbolic signing ceremony for new students, a Sophomore Retreat, residence hall "adopt-an-organization" service projects, and special recognition for students who complete all four types of hands-on learning experiences. These and other opportunities are designed to help students gain clarity about who they are meant to be and how to serve others in their lives and careers after college.
"The Pendle Hill Pledge is distinctive in higher education because we recognize that God informs how we view the world and our roles in it," said Scott Waalkes, professor of international politics. "Sometimes clarity from God about our roles comes on a hilltop, as it did for George Fox (one of the founders of the Friends tradition that shapes Malone) on Pendle Hill in England. And sometimes clarity comes through a series of little moments that God orchestrates for our learning. Either way, we believe there's no calling without a Caller."
The end goal of the Pendle Hill Pledge is to empower Malone graduates to enter their careers and lives committed to serving the church, community, and world.
"All of our students have faculty advisers who are trained to be mentors," said Miller. "By the time the class of 2024 graduates, they will have taken academic courses which include reflections on career aptitude and options, drafted cover letters, and resumes," said Miller. "Our graduates have a long-standing reputation for their dedicated work ethic, integrity, and expertise in their fields. With the addition of the Pendle Hill Pledge, we can now guarantee that Malone graduates can pursue their calling with confidence through exceptional career preparation across the disciplines."
For additional information about the Pendle Hill Pledge, including program distinctives and FAQs, visit www.malone.edu/pendlehill.