Math & Science honor society awarded Founders' Cup
Malone University's Alpha Gamma chapter of Sigma Zeta (national honor society for natural and computer sciences) brought home the Founders Cup from the National Convention in recognition from their chapter scholarship and related activities.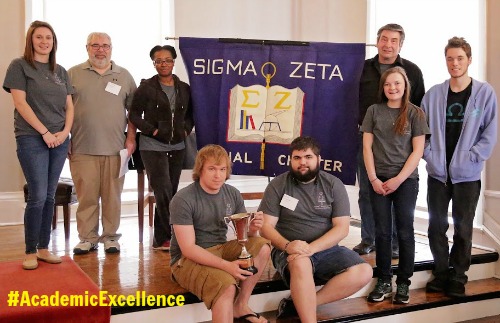 This is the fifth time that Malone's chapter has won the cup, with previous wins in 1976, 1980, 1991, and 1996.
Professor of Computer Science James Glasgow presided over the convention as the national president.
"We're very proud of our students and our chapter," said Glasgow. "They've done a great job."
He now moves into the office of Past President, and continues his work for the national organization "officially" for another year. Joshua Campbell was awarded Malone's chapter's Honor Award for his work for our local chapter. Also, the Harold Wilkinson Distinguished Alumni Award was awarded by chapters for the first time this year. Our chapter honored Millard Niver with this award. Niver was instrumental in bringing a chapter of Sigma Zeta to Malone in 1969, and served the National Organization as National Recorder-Treasurer for 17 years, from 1982 to 1998.
Finally, Malone has offered to host the National Convention in 2019, which will mark the 50th anniversary of the initiation of our chapter.
Students in Malone's chapter are:
Cody Ballay
Daniel Bancroft
Brandon Bapst
Rachel Belliveau
Nicholas Brumbaugh
Joshua Campbell
Stephanie Eidt
Gara Fawver
Rachel Fox
Margaret Houston
Anna Johnson
Jessica Jones
Tal Lewis
Rachel Maioriello
Colleen McDaniel
Kristie McFadden
Mahognay Oldham
Caitlyn Ridenour
Destiny Ross
Melody Sabo
Brian Tschatz
Laura Tweedie
Kayla Williams