MBA graduate embraces servant leadership roles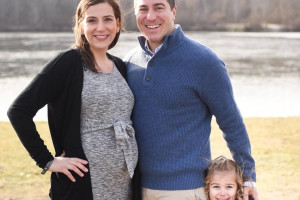 For Jonathon Bollas '19, public service is a family affair that was modeled to him as a boy. An IT Project Manager and Malone MBA graduate, Bollas recently followed his father's example and pursued local public office so he could be a servant leader in his community.
"My father was the first mayor for the city of New Franklin, where he served for more than 13 years," said Bollas. "Prior to that, he served as a township trustee for many years. My brother is also a police officer and serves that community. Watching my dad and brother serve inspired me to get involved, too. I moved to Tallmadge about seven years ago and decided to run for Council of Ward 3 during the 2019 election, working diligently to build relationships with my constituents through door-to-door campaigns, attending football games, distributing informational mailings, and corresponding with residents directly via email. I knew I could serve them well as chair of the safety committee, vice-chair of the community issues committee, and as a member of the personnel committee."
He was elected to Tallmadge City Council by a margin of one vote, 500-499.
"I survived two recounts, one for Summit County, and one for Portage County. My ward has a residential neighborhood that crosses the county borders," he said. "I'll never forget this experience! First I was up, then down, then after provisional and absentee ballots were included I was back up again. This reminded me of the importance of voting, especially in local municipal elections. My race proves that every vote counts and that everyone has the power to make a difference."
Bollas chose to pursue an MBA a couple years ago and his decision to enroll at Malone was strategic.
"In the age of so many online degree options, I found very few institutions where I could earn an MBA in person to help me build connections and relationships face-to-face," he said. "I loved participating in group activities and learning alongside my peers from a wide array of industries and sectors. These are people I keep in touch with even now. It was also important to me that my education be built upon a faith-based foundation because I'm a Greek Orthodox Christian. The 'feel' of Malone was exactly what I was looking for: I didn't want large class sizes or an enormous, overwhelming campus experience. Everyone at Malone was kind and helped me feel welcome."
With the excitement of the election and completion of his advanced degree in the rearview mirror, Bollas is grateful for the ways his Malone education has enhanced his work at Cardinal Health and his public service on behalf of the City of Tallmadge.
"The MBA program emphasized the importance of servant leadership, which is proving especially helpful during our current volatile circumstances," he said. "Cardinal Health at-Home Solutions distributes medical supplies across the country. In my role as acting Program Manager, I've been implementing what I learned about complex project management and bridging common goals amongst teams. Malone's MBA program gave me a greater confidence to lead teams of software engineers, architects, and analysts whom are working hard to develop a new, highly complex, order entry and billing system, as well as enhancing the website. Our overarching goal is to improve both the employee and patient experiences when placing their medical supply orders, and continue to position our company as a leader in the industry, differentiating us from our competition. Malone showed me how to be a better servant leader on the Council, preparing me to serve the constituents of Tallmadge. I am forever grateful for the impact my education has already had on my career and life."