Meet Jack Angelo, Director of Campus Safety
Jack Angelo always knew he wanted to serve the public.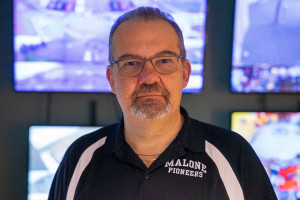 Growing up in Canton and being witness to his family's service in the Force, he never imagined a career outside law enforcement. At the age of 22, Angelo started his long journey with the Canton Police Department.
"That was the one thing I always knew I wanted to be," said Angelo, reflecting on his childhood growing up across from Malone's campus and his uncle who wore the badge.
He began his career, as most members of his field do, as a patrol officer, and after four and half years of service, he left the squad car to join the Crime Scene unit. It would not be long before he would be promoted to sergeant and move to Dispatch. From there he would join the Detective Bureau just a few years later. This steady progression of promotions and increasing prestige would come to characterize his law enforcement career.
By 2018, Angelo had loyally served Canton in nearly every position the Force had to offer. Naturally, it was that year he assumed the role of chief of police. Before becoming chief, he had commissioned the construction of a new dispatch center, and with his new authority he quickly continued his work upgrading the Canton Police with new and better tools.
"I was big on technology. I wanted everybody to have what they needed. We were the first department in the city to have computers and printers in all of the cars, as well as GPS systems and new radios as well," said Angelo about his strategy as chief of police. "It was a pretty aggressive approach to get all that done."
This work paid off immediately.
One year into the COVID-19 pandemic, and only two years into Angelo's term as police chief, the tragic murder of George Floyd on May 25, 2020 sent waves of civil unrest, protests, violence, and destruction rippling throughout the country. The fallout of this collective animosity brought on the most scrutiny and adversity law enforcement has likely ever faced throughout history.
The Canton Police Department was not immune. Because Angelo's officers were so well-equipped, the rising tension on the night of May 26, 2020, threatening to boil over into calamity, was quelled with virtually no incident.
"It was something that I had never thought I would see in Canton; that I had hoped I'd never see in Canton," said Angelo about that defining moment of his career. "When it started, we had full riot gear on that night. Of course, I went out because my guys were out there and they were going to be in danger, so I was going to be out there with them."
However, one of the most dangerous and trying times of his 33-year career, the night of May 26, marks one of Angelo's proudest moments in his time with the Canton Police.
When it came time for Jack to retire from the Canton Police Department, Malone was looking for a head of security. For both Angelo and Malone, the choice was simple. His ties, experience, and esteem with the Canton police made him a highly valuable asset to the safety of our staff and, most importantly, Malone students.
It is a responsibility he is proud to have.
"The students seem to be here to learn, and that is what they do. These kids are so respectful. I think after being a policeman for a while you're used to a lot of kids not being that way, but it's good to see students who want to learn," said Angelo.
Angelo has always loved his work, but it never left him a lot of time for hobbies. Now that he's retired from the Force and in a more relaxed role, Jack plans to spend more time with his two children, both of whom are also in the police force, and diving deeper into his love for cars. He even plans to purchase a Ford Model-T.
Malone is proud to call Angelo, a protector and life-long member of our community, Head of Security, but his legacy will always be that of a great Chief of Police to the people of Canton.
"It was a great career. I stayed until the last day I could."