Meet the Artist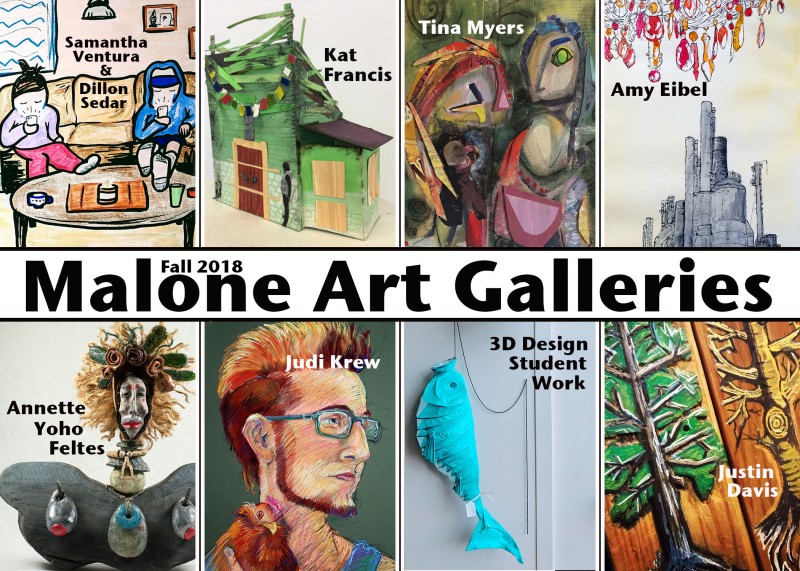 Malone University is pleased to host a "Meet the Artists" Reception on Friday, September 28 from 6-7:30 p.m. in the Johnson Center for Worship & Fine Arts. Refreshments will be served in the various galleries, which include the Fountain, McFadden, and Malone Art Galleries (MAG). Kat Francis, whose art is on exhibit in the Everett Cattell Library, will be available in the MAG. All exhibits are on display through October 19.
"We have so many talented artists in Northeast Ohio," said Michele Waalkes, who curates MAG. "It is a pleasure to be able to feature such beautiful and thought-provoking artwork in the Malone galleries."
The Fountain and McFadden galleries and Art-in-a-Case are curated by Sarah Shumaker.
Exhibits include:
Art-in-A-Case, Everett Cattell Library
"Welcome to the Bottoms" by Kat Francis
About the exhibit (note from the artist): Place is where we exist, it encompasses community, culture, and lifestyle. In this work, collage-like assemblages and fragments based on neighborhood communicate the experience of my surroundings. The interest in place began from growing up in poor neighborhoods and wishing I could live somewhere safer, cleaner, and bigger. My whole life I have moved frequently and had a hard time identifying a place as home. Due to frequent moving, I gained the ability to adapt and be exposed to many different communities throughout city life.
Capturing memories, stories, and experiences to share with my audience, my intent, is to recreate this inspiring, scrappy, and ever-changing community in a multi-material installation. Paint, collage and other mediums are used in a variety of material practices to portray devastation and rebuild.
Bio: Kat Francis is a contemporary mixed-media artist from the Midwest. In her work, she illustrates American history and daily life. Moving frequently and learning to adapt to new places, Francis has a deep appreciation for unique surroundings and storytelling. She observes and creates in a collage-like manner to illustrate reflections on modern life. Her artwork is playful, honest, and real. Francis is a graduate of Columbus College of Art, MFA and The Ohio State University, BFA.
Website: http://www.katfrancisart.com
Note: Art-in-A-Case is located inside the Everett Cattell Library, but Francis will greet guests in the Malone Art Gallery.
Artwork by Spring 2018 Students
Art 303 - Studio Experiences in 3D Design
David McDowell, instructor
Works:
Chair Project
Overlooked Spaces Installation
Paper Project
Reed Project
Shadow Project
This course offers an introduction to a variety of three-dimensional media in order to explore volume, mass, and structure. Aspects of functional vs. nonfunctional design in three-dimensional works are emphasized.
"I Don't Like That | Of Course You Don't"
By Samantha Ventura & Dillon Sedar
About the exhibit: "I Don't Like That | Of Course You Don't" is about relationship. Sam and Dillon are both art teachers, practicing artists, are in a relationship and live with two dogs. Dillon and Sam have very different styles and approaches to problems, both in Art and in life. "I Don't Like That | Of Course You Don't" aims to highlight the humor in contrast between the aesthetics of Sam and Dillon - that humor of compromise they most enjoy about their own relationship.
Mixed Media Paintings
Tina Myers
Artist Statement: Making time for art and creative expression has always been an essential part of my well-being. I find that many colors, shapes, and textures are soothing or fascinating to me, and I am thrilled when those elements work together to form something pleasing to the eye. I enjoy the freedom and sense of adventure that abstract art offers, and I generally like to create without a lot of conscious intention. Each piece will usually morph several times, as I test my own ability to create form and space. I love to see how spectators experience and interpret my finished work, and am especially impressed when a piece prompts someone's imagination or speaks to them in a way I never would have considered or planned.
Bio: Tina Myers lives in North Canton with her beloved family of people and animals. She is a self-taught artist who works mainly with acrylics to create cubist and abstract expressionist pieces. Myers has recently begun to include more experimental use of paper, cardboard and mixed media, as a way of putting to good use some of the things that are amply available and would otherwise be discarded.
Her artwork has previously been exhibited by local galleries, such as The Little Art Gallery in North Canton and Studio 2091 in Cuyahoga Falls, as well as Lynden Gallery in Elizabethtown, Pa.
She participates often in all types of group exhibitions, juried shows, and art events, including the Stark County Artists Exhibition, the Canton All-Stars at the Canton Museum of Art, Cuyahoga Valley Art Center's Juried Exhibits, as well as displays at Muggswigz and Chocolates at Wooster Chocolate Company.