National Science Foundation grants award to Malone University
The National Science Foundation granted Malone University an award that will both advance scientific research in Ohio and later be shared with similar institutions throughout the nation.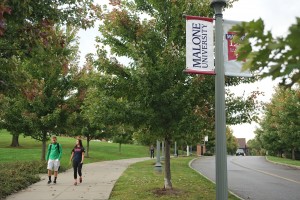 Jason Courter, assistant professor of biology, and IT personnel Shawn Campbell, Jim Shaffer, and Adam Klemann received $320,000 to fund a two-year project that launched November 1.
The grant allows for data switching improvements in the Timken Science building, the configuration of 'ScienceDMZ,' and a high speed 'Data Transfer Node' on campus – as well as access to Internet2, which connects Malone to national tier 1 research institutions such as Case Western Reserve University and The Ohio State University, independent of traditional internet capabilities through statewide academic Internet service provider OARnet.
"The infrastructure we will be able to put in place over the next year removes limitations and will allow our faculty to 'dream bigger'," said Jim Shaffer, senior network engineer. "It will open new doors for Malone, giving us access to data and resources that we can't even imagine right now."
Once the technological framework is functional, science researchers will be able to spend their time and energy where they are most passionate - the science and research itself - while experts in information technology care for the technical aspects of the projects. The grant sets a framework for interdisciplinary collaboration and provides hands-on training for students.
"It is our hope that this model will allow students in the natural sciences and computer science to collaborate intentionally," said Adam Klemann, information technology manager. "Interdisciplinary input between both fields will encourage our students to think about how to 'meet in the middle' in order to complete research better together than we could apart."