Nursing students enjoy cross-cultural exchange between U.S., Denmark
Marlene Hansen and Maria Fredholm Kristensen say they've had a wonderful introduction to the United States via Malone University.
"Everyone has been very nice and welcoming," said Fredholm Kristensen. "The women in Fox Hall gave us notes and candy, and have been so helpful. Lora Wyss also baked for us!"
The Danish nursing students are in the country for three weeks through a cross-cultural exchange program coordinated on Malone's part by Professor of Nursing Lora Wyss, Ph.D.
"It's really wonderful to have these students here," Wyss said. "Two students of ours, Sarah Brent and Kurt Moore went to Denmark this summer. The four students have had a lot of interactions, which lead to stronger memory connections for students in both countries."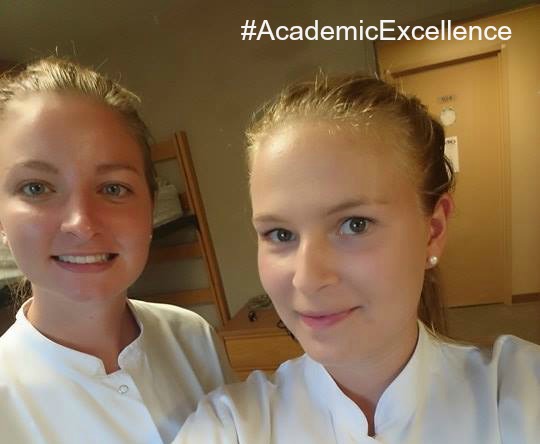 Wyss and her husband Bill, an adjunct faculty member, will lead a service learning trip to Denmark in May. Students will learn about the Danish healthcare system and stay in international student housing.
Hansen and Fredholm Kristensen said they were particularly excited to tour local hospitals. Their schedule also included numerous classes in their areas of interest (pediatrics, psychiatry, and community health), a tour of Canton, athletic events, and visiting community clinics.
"I want to be a nurse because I love working with and helping other people, especially children," said Fredholm Kristensen, who has an internship at Odense University Hospital in a department specializing in neonatology.
Hansen has chosen this helping profession for the same reason.
"There are also many possibilities in nursing and, it isn't the same every day because it varies from patient to patient," she said. "Also I like to use my hands and head at the same time."