Once-in-a-lifetime trip to Alaska equips Malone graduate to be a servant leader
Kelsey Joyce '21 knew that, when the Lord wants you to be somewhere, He makes it possible. After a kind family from her church paid for her flight, Joyce found herself en route to Alaska, ready to take on whatever adventure God had planned.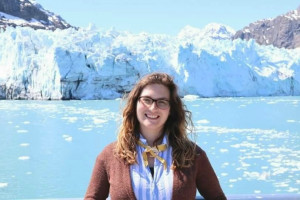 "I was supposed to study abroad in the spring but that opportunity was cancelled due to COVID-19," she said. "I knew I wanted to travel somewhere and do something outside my comfort zone but also be faithful to the Lord in my calling to go. I knew I wanted to explore nature and enjoy God's creation before I committed to a full time job. A few years ago, I worked at Disney World for a semester through their college program and one of my co-workers had a summer job in Alaska, so I knew that there was a whole culture of people who specifically work seasonal jobs there. Most don't have permanent housing because it comes with each job. Many of these seasonal workers can, at most, fit all their belongings in their bookbag, if not their car. I soon found myself daydreaming about being one of those people so I started doing some research. I have always loved mountains and knew that I would enjoy a summer there. I knew this desire was from the Lord because I'd never been that far from home before, but sure enough, five months later, I was boarding the plane for a full-time, unpaid program."
Joyce had a few different jobs in Alaska, including working at A Christian Ministry with the National Parks Service, serving at Glacier Bay Lodge in Glacier Bay National Park, and obtaining a housekeeping job in Seward.
"A Christian Ministry is an outside organization that provides our team with jobs in the parks and applies for our permit to have services within the national parks," she said. "I first worked in was Glacier Bay National Park as a server at the Lodge. I flew into a town of 450 people on an 8-passenger seaplane because the jets do not fly to town before the beginning of the season. Part way through the summer, I took another job in a different region of Alaska, just a few miles from the Kenai Fjords National Park. I attended a local church in town with co-workers and I really enjoyed having spiritual conversations with a range of people. I am grateful for both experiences and it was difficult leaving people I had created close friendships with, but I look forward to visiting again sometime."
Joyce was a transfer student at Malone, coming to campus from a local state university.
"I chose Malone because I wanted my college education to come from an institution that had Christian values, and the rest of my experiences were all perks,'' she said. "I was so surprised that my professors actually knew my name and cared about me. It was a relief to finally feel known. Andy Reynolds, Bekka Russell, and Elizabeth Patterson Roe are wonderful professors and even better role models."
Joyce is grateful that she could graduate from Malone, even though her time on campus was brief.
"When I speak with my friends who graduated from or are still attending secular universities, it reaffirms how special Malone is," she said. "Education is an investment but our experiences during that time are also important. At Malone, I was able to grow in my relationship with God and gain purposeful friendships along the way. It's gratifying to have friends who share the same fundamental values that I do."