One graduate's journey to loving Christ and discovering her calling
When Kelly (Crowell) Cooke '01 first came to Malone, she wanted to immerse herself in basketball at a college close to home. Little did she know that God had something far more exciting in store.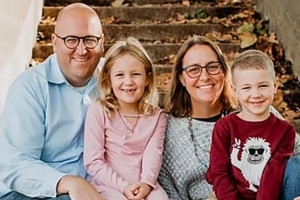 "I chose Malone because I believed the elementary education program would be a good fit for me, and my stepdad Tim Mizer '69 went to Malone," she said. "I grew up in a Christian home, but my faith didn't have much impact on my life."
The February before Cooke graduated from high school, she lost her brother—her only sibling. This devastating loss caused her to struggle in her faith. She only wanted to put her energy and identity into basketball.
"When I moved onto campus, my personal life was in shambles," she said. "I got involved with the wrong crowd and started to spiral out of control. After experiencing some traumatic events during my freshman year, I found myself wandering down a destructive path and was eventually kicked off the team. I was pretty angry with God and didn't really share how poorly I was doing with my family or close friends. I needed support and felt really alone."
Finally, one friend shared a hard truth with Cooke.
"He told me that if I didn't make some big decisions and changes in my life I would continue to live in pain and destruction," she said. "So at rock bottom, I decided to finally give Jesus a try. I thought to myself, 'If Jesus really is who all of these people say He is, then maybe He can help lead me in a different direction.'"
And He did.
During Cooke's sophomore year at Malone, she lived next door to a suite of upperclassmen who would become her best friends.
"Noelle (Harnett) Custer '01 and and Rachel (Schmidtke) Jones '99 took me in and showed me support and love like I'd never experienced before," she said. "I decided to attend a fall retreat led by my RA and shared my story at that retreat. The women in the suite next to mine were there too, and when they listened to me share my heart, they showed me love and encouraged me in my walk with Jesus."
Eventually these friends introduced her to The Coalition for Christian Outreach (CCO), a campus ministry organization. A few full-time CCO staff members who were assigned to minister at Malone, as well as some Residence Life staff, discipled and mentored Cooke with meals in their homes and countless hours of conversations like she was family.
These relationships extended beyond her time at Malone.
"Let's just say I was a little 'rough around the edges' sometimes," said Cooke. "But I loved to have fun and was willing to learn and grow. I craved relationships with these mentors and our time together was very formative for me. These experiences and relationships were what inspired me to go into campus ministry."
After Cooke graduated, she decided that she wanted to invest in the spiritual growth of college students like others had invested in her. So she came on staff with the CCO as a resident director at Waynesburg University.
"My intention was to serve as an RD for 3 years, then shift toward another role within higher education where I wouldn't need to raise my own salary," she said. "I earned my MA in Higher Education from Geneva College during that time and in the end, I stayed with Waynesburg for 4 years before moving to Grove City College to serve as a resident director and volunteer assistant women's basketball coach with the CCO."
And for the past 15 years, still through the CCO, Cooke has been working with varsity athletes at the University of Pittsburgh.
"I cannot imagine doing anything else vocationally at this point. I am right where I am meant to be," she said.
In her daily work, she meets one-on-one with students, serves as a team chaplain, and guides student leaders as they facilitate Panther Fellowship each week and lead Bible studies for their teammates.
"Our staff also support coaches and the Pitt athletic staff," she said. "We think that even small gestures build trust over time, and we help our students to see that, too. Something simple like a thank you note from a student leader to an overlooked student trainer shows our student athletes how they can be the hands and feet of Jesus."
The foundation Cooke received at Malone is the foundation she's built the rest of her life, and that she tries to help her students build their lives, on.
"I didn't recognize it at the time, but those formative years of college and young adulthood set the trajectory for all our lives. My time at Malone helped me understand what it looks like to Love God and Love Others."
Cooke has been married to her husband Chris for 13 years. They met through the CCO and live in Pittsburgh with their children Eliana (10) and Malachi (8) and mini goldendoodle Penny Rose. They love to travel with their kids and hope to take them to all 50 states by the time they graduate from college.