PAINTING WITH A HIPPO. Zoo & Wildlife Biology major completes interesting internship
A WILD SUMMER. Olivia Roupe '18 interned at Dickerson Park Zoo in Springfield, Missouri this summer, where she especially enjoyed working with their hippo, Henry. Henry now lives at the Cincinnati Zoo.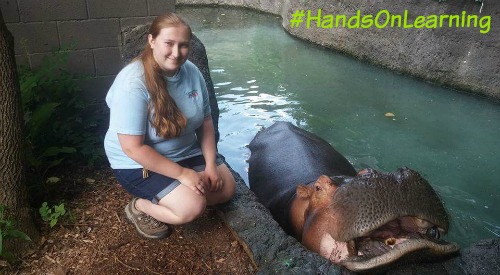 Vermont native Olivia Roupe '18 dreams of opening her state's first zoo. But she knows that in order to achieve that life goal, there are many steps along the way. First and foremost, it starts with educating herself so that she may someday educate others. This summer, she completed an important step in her education at Dickerson Park Zoo in Springfield, Mo.: her first internship.
"I felt like I had learned enough at Malone to have a basic understanding of stuff I would learn and do at a zoo," said Roupe. "I also just couldn't wait to get a glimpse of what I want to do with my career."
During her internship, Roupe worked alongside the keepers in various areas of the zoo - Africa, Reptiles, Education, Australia, and South America.
"One fun thing I got to do was to do paintings with their hippo, Henry," she said. "He would come up to the edge of the pool and we would rub (animal safe) paint on his nose and press a canvas against it."
However, not all of the work was glamorous. She also welded lion fences, scrubbed the hippo pool, fed animals, and cleaned up lots and lots - and lots - of animal waste. But Roupe seemed to think the experience was worth it.
"Since the other interns and I got to stay at the zoo, we had permission to walk the public areas of the zoo grounds at night," she said. "It seemed almost magical getting to walk around in the dusk in complete silence except for the animals, and just watch them milling around or lying down to sleep."
While Roupe has a lot more education in front of her, she is eager to share what she has learned with others.
"I want to focus on sharing my love and knowledge of animals with the public, to educate and inspire them to take action and help care for the earth," she said. "We were given the earth by God, and He put us in charge of caring for it. In the words of Baba Dioum, 'We will only conserve what we love. We will love what we understand. We will understand only what we are taught.' "