Prestigious scholarship enables student to make a difference abroad
Kiera Conkle '20, a social work and global and international studies double-major, is passionate about civil rights and combatting sex trafficking.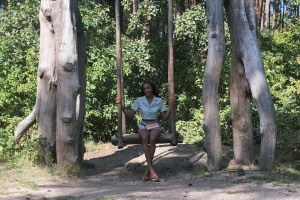 A first-generation college student, Conkle initially pursued only social work, but after a missions trip with 3rd Street Community Church to Bolivia, she discovered she had an interest in global and international studies. This trip opened her eyes to the red-light district and she spoke with many children who accepted that as their future form of employment. These conversations showed her the gravity of sex trafficking and she became determined to help minimize the problem.
After returning from Bolivia, Conkle knew she wanted to study abroad, but since she is responsible for covering the costs for her college education, she knew that another international trip could add significant expense.
"Money was a concern that made me doubtful, but Malone has faculty who care greatly about helping their students pursue their dreams," she said. "Through them, I found out about the Gilman Scholarship; with the assistance of my advisors and professors, I wrote my essay to the scholarship committee. I did not want to get my hopes up that I would receive the scholarship but, by God's grace, I was one of the recipients."
The Gilman Scholarship is a grant program that allows students of limited financial means to study or intern abroad. It is open to U.S. citizen undergraduate students who receive Federal Pell Grant funding at a two-year or four-year college or university.
Now, with the help of the Gilman Scholarship, Conkle is currently studying in Lithuania and Russia (pictured above) and will have the opportunity to work with groups and individuals that combat human trafficking.
"I am so appreciative of this opportunity and can't wait to share my story with those I meet and help others to move out of the cycles that the world has laid out for them. I am blessed to have the chance to change lives and give people hope because everyone needs to be reminded that someone is in their corner. It only takes one person to start a chain reaction in making a difference, and who knows, I might be that person!"
To keep up with Conkle's experience abroad, check out her blog here