Putting a face to a crisis
Last month, students Kenneth (KJ) Dampier '16 and Justine Chester '16 coordinated with the Flint area Red Cross and Food Bank to assess the greatest needs in Flint, Michigan, where a serious water contamination issue is linked to a number of serious illnesses and deaths.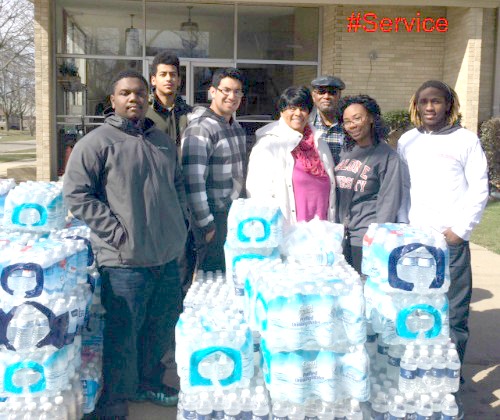 Last week, criminal charges were filed against three officials for misconduct in office, willful neglect of office, conspiracy to tamper with evidence, tampering with evidence, a treatment violation of the Michigan Safe Drinking Water Act, and a monitoring violation of the Safe Drinking Water Act.
"The goal was to find pockets of neighborhoods that were badly affected yet they were not receiving many of the supplies needed," said Brenda Stevens, Director of Multicultural Services. "We were hearing reports that only people with transportation and other means were able to reap the benefits of the mass water donations. Therefore, we wanted to get much-needed water and supplies to areas of the community who did not have the means to acquire water donations."
Dampier and Chester organized a trip to Flint for the Multicultural Student Union – including other members Reuben Simpson '19 and Grant Glover '19 – to make a donation delivery of skids of water and cases of baby wipes from the Malone community.
"The highlight was delivering the water and putting a face with those in need," Dampier said. "We learned firsthand the serious needs this city has – in addition to its school system. I would love to do a service-learning trip there. We also are continuing our connections with that community by continuing to supply hygiene products."
The students worked closely with Triumph Church, Flint Campus, a satellite church affiliated with one of the fastest growing churches in the Detroit area.
"We are excited about what God is doing in the lives of our students," said Stevens.