Rebekah Simpson '22 Juggled Class, Work, and Family at Malone
Rebekah Simpson '22 has been in the helping profession for a decade, but it had been a while since she attended college.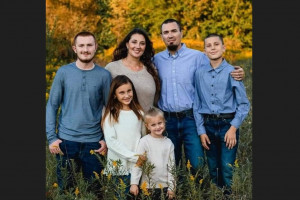 "I currently work at OhioGuidestone and have been for 10 years, and I have been doing chemical dependency counseling for a long time," said Simpson. "I went to Hesston College and graduated with my associate degree in 2009, so I had been out of school for more than a decade."
During her time with OhioGuidestone, Simpson worked in a variety of capacities.
"I run three group counseling sessions per week. I'm also involved with 'Recovery Court,' which involves our local Tuscarawas County judge, a probation officer, the sheriff, attorneys, myself, and a group of community leaders. Each week we get together to discuss people involved in the program. I give the treatment updates on them, their progress, barriers, or any concerns. I also do individual sessions" said Simpson. "I like how my days are broken up like that, because if I did individual sessions back to back I would be exhausted. I like the interaction in groups and I believe that our group members help each other while I facilitate. It's a nice mix."
When the opportunity arose to advance her career, Simpson took the advice of her supervisor.
"My supervisor at the time said I had the skills to be a counselor, and she wanted to promote me from case manager to counselor. I was excited at the opportunity but first I needed to become a licensed chemical dependency counselor and there was no way I could do that unless I went back to school," she said. "So I made the decision to return, and I also wanted to go back for social work so I could be dual-licensed."
Simpson considered a few schools, but Malone was the one that she felt was worth it.
"My admissions counselor was very helpful and persistent. He reached out to me even when I was unsure when I was going to start classes, and that was my ultimate deciding factor," she said. "He did a great job when I was really on the fence. I was afraid to take the first step even though I knew I wanted to go back to school, and he was encouraging along the way. That was when I knew this was the route I wanted to take."
But coming back to school for her bachelor's in social work was not an easy task.
"I worked full time and my biggest fear was how to find time to do well in class because I also have a husband and four children. They're in every sport you can think of so we're always out and about, and I did most of my schoolwork at night or on the weekends. My work schedule is four, 10-hour shifts, so many of my Fridays were consumed by schoolwork," said Simpson.
But Simpson knew that this was the right thing to do for her career and family.
"I got into chemical dependency counseling by starting in a women's residential program as a residential advocate, and there I worked my way up the ladder and I've been here ever since in different departments. I like my job a lot and I just decided to go for it. I really love the helping profession," she said.
Simpson found the supportive environment of Malone crucial throughout her journey.
"I thought that my professors were very accommodating and understanding of my life and circumstances. I typically took two classes at one time, my classmates were kind, and my professors advocated for me when I needed it," said Simpson.
And now, after completing her coursework at Malone, Simpson is equipped to take the next step in her career of serving others.
"Mental health and addiction typically go hand-in-hand, and there were a lot of lessons that my social work classes showed me. From learning about the differences between micro and macro work to the variety of careers I can pursue with my degree, I feel better equipped now. That's really empowering," said Simpson. "I'm still very comfortable in my field but I'd like to explore other fields to see if I fit anywhere else. I can expand my reach within our agency without ever having to change jobs. I want to take on some more mental health clients, and maybe try working with kids and see where that takes me."
As she looks back on her time at Malone, Simpson hopes to encourage students in a similar situation.
"If I can do it, anyone can do it. If you manage your time well, you'll succeed. Take breaks. From work to home to schoolwork time, make sure that you give yourself some time to recover. If you can't focus on an assignment or feel overwhelmed, take a step away and come back to it later. Practice self-care!"