Restore dignity to those in need
Corey Easterday '11 works with families to help them do their laundry as part of his role as director of Current Initiatives of Ohio.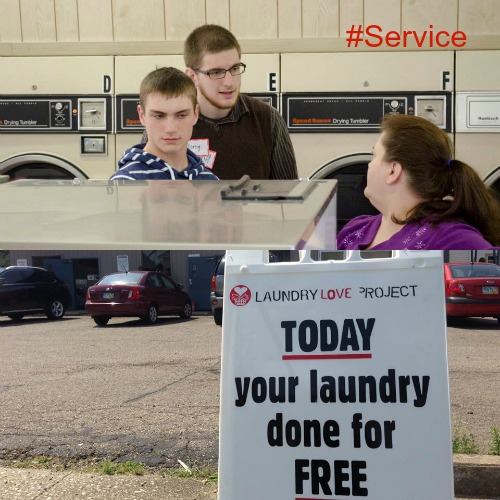 Drawing upon his own childhood experiences with poverty, Corey Easterday '11 was inspired to begin a Laundry Love project in partnership with Current Initiatives.
"I started this project because I felt a tension between the privilege I had at school and the poverty in the city around me," said Easterday, the director of Current Initiatives Ohio and a staff member of RiverTree Lake. "I had access to 'free' food and as much as I wanted but a few miles away, people didn't have that."
Easterday's focus is not on charity for the sake of charity, but on restoring dignity to those in need. He began Laundry Love in college when he and some friends would randomly bless families at local Laundromats by showing up with collected change, snacks, and a few free hours. His favorite aspect of the event is still the ability to interact with, and encourage, the people who become friends.
"I wanted to fix all these problems," Easterday said, "but I don't have to fix everything. I simply have to be engaged in people's lives."
In addition to Laundry Love, Current also hosts Affordable Christmas, in which new toys are donated and sold to parents for a tenth of their retail price. This allows, Easterday says, "Parents to be the heroes for the kids by providing them with Christmas gifts."
At one point during college, Easterday's mother and sister were homeless. And his father died during his senior year of college.
"Everyone has these moments that are really painful. I knew firsthand what it was like to be in these circumstances," said Easterday. "Being with people in their struggles makes the biggest difference. I will never forget the people who were there for me."