Rose Bianchi Sams Endowed Memorial Scholarship Established
A Malone education can have an impact. Michael Sams, D.O. '72 knows personally that impact.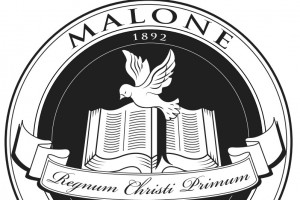 "My brother and I come from humble beginnings and in fact are the only members of our family to have undergraduate college and postgraduate education," said Dr. Sams.
Dr. Sams credits much of his growth and pursuit of education, and his brother George P. Sams' same growth and pursuit, to the love and support of his late mother, Rose Bianchi Sams.
"Without my mother's attention our lives would have been very different," said Dr. Sams. "Although not benefiting from even a formal high school education, she was well read and intelligent. She imparted in my worldview a love of books and education."
In addition to his mother's support, Dr. Sams recognizes his Christian upbringing, as well as the Christian foundation of Malone, as being of supreme importance to his success and the success of current, and future, Malone students.
"It is refreshing in the age of disbelief that we find students who believe that ultimate truth comes from Jesus Christ," said Dr. Sams. "I owe all of my success to the providence of God, and feel honored that my humble story is of significance."
With God's love and his mother's guidance, Dr. Sams and his brother George P. Sams felt called to extend their blessings to Malone in the form of scholarship.
The Rose Bianchi Sams Endowed Memorial Scholarship will provide financial aid to a deserving student pursuing a career in one (or more) of the following areas of study: journalism, English/English literature, or pre-medicine studies.
It is thanks to generous endowments such as this that Malone students are able to pursue higher education for the glory of the Kingdom of God, and Malone University looks forward to being a good steward of the Rose Bianchi Sams Endowed Memorial Scholarship.
"We are honored to help aspiring Malone University students," said Dr. Sams. "And we are grateful that God has given us the opportunity to be a change in a student's life."