Students spearhead efforts to help those affected by Hurricane Florence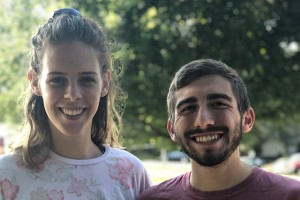 Malone students Dominic Mariano '21 and Doraleigh Hennessy '20 are eager to put their faith into action.
The duo are spearheading efforts to collect supplies, organize ministries and churches, and raise funds for relief to the Carolinas after Hurricane Florence brought severe flooding to North Carolina, South Carolina, and Virginia.
According to CBS News, at least 37 people have died in storm-related incidents - 27 in North Carolina, 8 in South Carolina, and 2 in Virginia. Nearly 300,000 people remain without power in North Carolina.
"In class last week, we were talking about how to practically meet the needs of others," said Mariano, a sophomore triple majoring in Bible & Theology, Youth Ministry, and Educational Ministries. "We knew the hurricane was supposed to hit over the weekend, and that people would need help. So Doraleigh and I stayed after class to come up with some ideas."
In addition to partnering with Friends and other local churches, they are collecting donations of supplies and cash outside the Hoover Dining Commons next week. They also will be selling t-shirts and bracelets. They plan to take the collections to a church they're partnering with in Portsmouth, Virginia in early October, who will then distribute it to where it is needed most in the Carolinas.
"We just want to show God's love and light to those affected by this disaster," said Mariano. "We know they are going through a very difficult time. Some people have lost everything."
Those interested in donating or helping may contact Mariano via email at dmmariano1@malone.edu or Hennessy at dhhennessy1@malone.edu.