The game of Sloth: A Malone community tradition
On Halloween night of 2002, then-students Marc Fleagle, Michael Leggett, Ryan Walter, Kevin Pike, and Matt Repasky created a game now fondly known as "Sloth."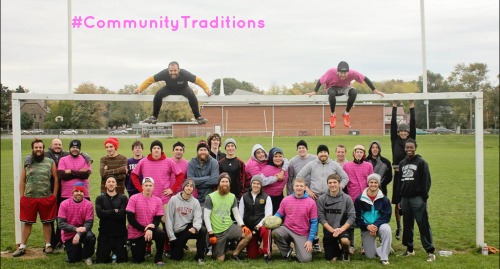 That fateful night, PGB residents threw a football on the track field, which used to bear soccer goal posts. They kicked the ball into goals and attempted to block shots. They kept adding rules—such as you can only throw the ball backwards—and invented a sort of tackle called a "wrap" for this soccer-rugby-football-kind-of-game and named for Repasky, whose nickname is Sloth. [For all of the rules, visit http://www.slothsports.com/rules.html]
"I came in as a freshman in 2005, and by this time, it had become a tradition on the floor to play Sloth every Friday afternoon at 4," said Ryan Palmer, Haviland resident director.
Sloth was a big part of Ryan's experience as a student, including anniversary games that took place on Halloween night when alumni returned for games.
Ryan enjoys keeping Sloth a tradition for new generations of students—which now includes female students.
"I just really enjoy being out there playing," said Palmer. "I absolutely love seeing alumni who I have been close with for years playing alongside students and welcoming them into a community that has existed for 12 years."
Fleagle even created a scholarship for Sloth players: two $1,500 scholarships will be presented on October 1.
"I always tell people that we play Sloth for the sole purpose of playing Sloth," said Palmer. "We aren't out here trying to display our athleticism, get overly competitive, or show off how fast we can run. If anything, it's the complete opposite. It's really all about playing a weird game, with a weird name, with weird rules that a bunch of unathletic men created in 2002. We play just to continue and be a part of a community that has lasted more than a decade."