THE GIFT OF HOPE. Alum fulfills his passion to help homeless in Canton
Whenever it rains in Canton, Chad Minor '15, goes downstairs to his family room, kneels at his couch, and prays.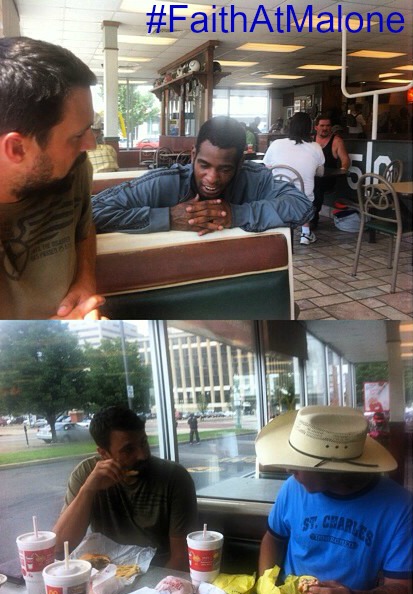 Minor, who a master's in Theology at Malone and directs Rising Hope Ministries, spent a week this August living as a homeless person.
"It was life changing," said Minor, who recently spoke about his experience at the be:justice spiritual formation opportunity. "My goals were to bring awareness to the people of God in my city, to raise money for Rising Hope, and to bring the Good News of the Gospel to those living without hope."
Minor met Shadrack, who was born in California but now lives in Canton, where he has been homeless here three times - this time for nearly five months due to job loss and financial insecurity.
He prayed with women sleeping in groups of five at Monument Park, who have figured out that number is enough to protect each other but not too many to attract too much attention.
"One of the things that really struck me was what it was like to live on other peoples' time," Minor said. "You eat when others give you food. You look forward to Taco Tuesday, because that's when Mexican restaurant donates soft tacos. You barely sleep because you're always watching for who's going to steal your stuff or arrest you. You can't wait until 5:30 each morning because that is when McDonald's opens. The library opens at 9, so you go there and use a computer, but there are limits to how long you're allowed to be on them."
One of the many challenges, he said, was not getting regular showers. The Salvation Army offers showers each morning from 8:30–10 a.m., but the lines are long and only a few spots are available.
Learn more about Chad's homeless experience and his ministry.