Timken Foundation awards Malone University $1.2 million to establish Center For Student Success in Cattell Library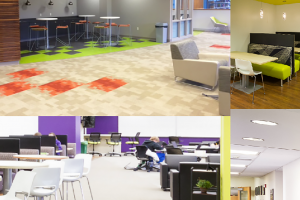 The Timken Foundation has awarded Malone University $1.2 million to support the creation of a new Learning Commons and establish the Timken Foundation Center for Student Success in the institution's Cattell Library. The creation of the Learning Commons will equip faculty and academic staff to help Malone students to develop the "love of truth and vibrant, mature faith" that is central to the Malone student experience.
Adaptable and technologically enhanced spaces will facilitate individual learning, collaborative learning, informal learning, and relationship building. The Timken Foundation Center for Student Success, located within the Learning Commons space, will support students with a focus on retention, first-year advising, scheduling, tutoring, career planning, and disability services.
"We're honored that the Timken Foundation would invest in Malone students in this way," said Malone President David King. "This project creates a central location where students and faculty can gather for collaborative learning with modern spaces and state-of-the-art technology, enhancing the learning environment while also providing support systems necessary for student success."
The renovation will enable the Cattell Library to better serve as a resource for members of the Greater Canton community as a site for meetings, public events, and common spaces where educators can meet and work with students.
"We take our role as Canton's University very seriously," said King. "We have more than
100 strategic partnerships with Stark County organizations, businesses, and social service agencies. The Cattell Library is another resource for the university to offer to our neighbors and this renovated space will serve as a well-equipped and comfortable space for intellectual activities. We very much view it as a resource for Stark County and the region."
"This project will take a valuable resource and reposition it for future needs," said Jack Timken, president of the board at Timken Foundation. "We look forward to seeing the application of information technology to improve access to resources for students to enhance their learning experience."
The Learning Commons project is part of Malone's $25 million Building a Bolder Vision Campaign that seeks to transform the student experience. Fundraising to complete the project is ongoing. For more information about the project, visit www.malone.edu/learning-commons.