Track athletes to compete at NCAA Div. II Nationals Thursday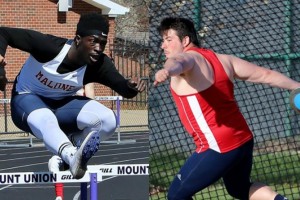 Track athletes Ashton Dulin and Duke Taylor will represent the Malone Pioneers at the NCAA Division II Outdoor National Championship Meet Thursday through Saturday.
Dulin will race in the preliminaries of the 400-meter hurdles at 8:40 p.m. on Thursday. The finals of the event will then follow on Saturday at 7:30 p.m. The sophomore will be making his second consecutive appearance at the Division II Outdoor Championships after landing at spot 13 in the 400 hurdles at Nationals last May. This year, Dulin collected the Great Midwest Athletic Conference's Track Athlete of the Year Award for both the indoor and outdoor seasons. A two-time USTFCCCA All-Region honoree in the 400 hurdles, Dulin set the conference record in the event at the Jesse Owens Classic on April 21 with a time of 52.06 seconds. He enters this year's National Championships with the tenth-fastest 400 hurdles time among Division II qualifiers.
Taylor will be making his fourth consecutive appearance at Nationals and compete in the discus finals at 5 p.m. on Friday. Taylor earned Division II All-America accolades in the discus last May with a third-place showing at the National Championship Meet. Like Dulin, Taylor earned the G-MAC Field Athlete of the Year Award following both the indoor and outdoor seasons. He owns the top seven discus marks in the conference record book and set a new personal record at Grand Valley State University on May 12 with a toss of 185'9". Taylor has the third-best discus mark among national qualifiers and looks to become the first three-time NCAA All-American in Malone Athletics history (In addition to last year's All-America honor in the discus, Taylor also garnered the prestigious award with an eighth-place finish in the weight throw at this year's Indoor National Championship Meet).
The top eight finishers in each event will be named NCAA Division II All-Americans.
View live results, live video, and a full meet schedule.