Victory march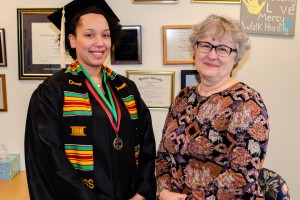 When Camelia Pritchett walks across the stage to receive her degree on May 5, it will be a victory march. An "I-proved-you-wrong." A declaration, that she is more than a statistic. And a promise to her four children that she will give them a better start in life than the one that she received.
"My life has made me who I am, so I'm not bitter," said Pritchett. "I'm just thankful to be here."
Pritchett grew up in the foster care system. At the age of two, she was removed from her mother's home for the first time. Her mother was given chance after chance until Pritchett turned 8, and parental rights were terminated. All of insecurity Pritchett experienced caused her to act out in unhealthy ways.
"As I kid, I wish they would have found an adoptive home for me when I was younger," she said. "I needed stability, and a family."
Instead, she never found a family and was in and out of countless foster homes. Pritchett quickly became all too familiar with the youth criminal justice system. According to the U.S. Department of Health & Human Services, children who grow up in foster care have only a 6 percent chance of completing a 2- or 4-year college degree.
Pritchett likely would have become one of the 94 percent to age out of the foster care system without hope for a successful career, but her life changed when she turned 16. She discovered she was pregnant.
"I was determined that my children would never face what I did," she said. "Looking into my daughter's eyes made me want to make a better future for both of us."
Pritchett eventually earned an associate degree in Human & Social Services from Stark State College, and then transferred to Malone to pursue a B.A. in Social Work.
"Malone was close to my home, and I have really enjoyed growing in my faith," she said. "Jane Hoyt-Oliver has become a mentor to me. She became my backbone through all of this, especially during my last pregnancy – she always made me feel welcomed and cared for."
Pritchett has decided that she is not finished with her educational journey. She has especially thrived during her current internship in the county's victim assistance program, and is considering attending law school at The Ohio State University.
For now, though, she's basking in the success of obtaining her bachelor's degree.
"I've been able to show my children just how important education is, that it's worth it," Pritchett said. "And to encourage them to follow their dreams. That dreams do come true – even if it takes a long time."