When advocacy and journalism go hand in hand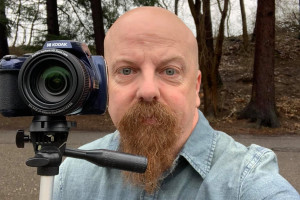 Orphaned at age 11 and living on the streets until he was 17, David Thomas knows he should be a part of a different statistic. Instead, he grew to develop a passion for advocacy and journalism.
Thomas attended Malone from 1996 to 1999, and during his time on campus, he majored in social work and wrote for the Aviso in an effort to gain experience in those fields.
"I learned a lot from Malone," he said. "My biggest takeaways were to use my actions to focus on others and to have a global vision."
With this mindset, his dreams developed into tangible goals that he continues to pursue daily. As a case manager with Comprehensive Behavior Health and Associates, Thomas helps clients connect with important resources they need for their mental and physical health. He also hosts two shows on Facebook- The Flashlight and Your World in Focus.
"The Flashlight is a news advocacy interview program that highlights events going on in Stark County and advocates for Stark County residents. I have used it to find many ways to serve, including locating a missing child, raising money for someone struggling with cancer, and replacing a three-wheel bike that was stolen from a special needs child in our town," he said. "Your World in Focus is a big project that allows me to interview people from all over the world to talk about the issues that we face in our world today."
Stark County Mental Health and Addiction Recovery recently recognized Thomas as Advocate of the Year as a part of the 2020 Hope and Crisis Intervention Team (CIT) Awards. These awards are dedicated to people and organizations who are making strides and influencing change to advance behavioral health in Stark County, as well as those who are advancing best practices in encounters with people struggling with substance use and/or a mental illness.
"I am grateful I have the opportunity to help people change their lives and become healthier, while also fighting for causes that afflict our country," Thomas said. "Journalism is a powerful tool that, when used with the right motives, can make an amazing difference in the world."