William Harris '11 Builds a Winning Marketing Formula
William Harris '11 is the founder and CEO of Elumynt, an advertising agency specializing in the promotion and marketing of eCommerce companies.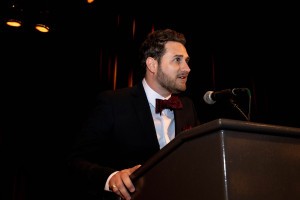 However, it wasn't a straight path to where he is now.
"I was actually an RN with Aultman Hospital after I received a nursing degree in 2005," said Harris. "But when the economic downturn of 2008 hit, I found that my career wasn't as stable as everyone said it would be."
As Harris and his wife began to start their family, he knew that he had to make a change in light of the curves of life.
"As I thought about going back to school, I considered the utility of marketing," said Harris. "One thing about life is that no matter where you end up, you have to market yourself in some way. Malone's marketing program was very attractive and I knew that I wanted to diversify my background to better prepare for my future."
The journey that would lead to founding Elumynt was one of learning and discovery for Harris.
"I first started in a marketing position at a company which built employee scheduling software, and eventually I became the vice president of marketing for an eCommerce company," said Harris. "Through these roles, I came to learn about how these types of businesses run, and what makes them succeed. Too often I noticed that people in roles like the ones I held simply don't understand the basic core of what makes a successful business in this sphere."
With experience under his belt, and more people each day asking Harris for marketing help, he started his own marketing company focused on service and guidance.
"I have a nursing background, so that naturally makes me want to help people," said Harris. "At Elumynt we look at how we can actually help a company grow, not just how we can get the most out of our advertising."
When Harris combined his healthcare background with the lessons he learned from class time at Malone, he discovered a winning formula.
"If you were to prescribe medication to someone, you don't just do it haphazardly. You should get to know the person and their problem first," said Harris. "In the same way, we don't just start throwing advertising around with a company. We take a lot of time getting to know our clients, even before we agree to work with them. We learn about the root issues and strengths, and then we go from there."
Harris chose to attend Malone for his B.A. in marketing management for a multitude of reasons.
"I knew Malone very well, my wife had graduated from Malone and she had a great experience. For both of us, Malone's Christian mission played a big part in our decision to attend," said Harris. "The availability of night classes close to home was also huge. Ultimately, it mattered to me where I went to school. I wanted Malone's name and reputation attached to my degree."
Harris grew as a marketer and leader at Malone, and he was able to take that experience and weave it into the foundational principles of Elumynt.
"In our company, we have two huge distinctives: own it and communicate it," said Harris. "When we look at a company, we own it - we want to deal with that company as if it were our own. That's something I experienced in my Malone classes with an emphasis on stewardship; we want to be good stewards. We also communicate effectively because we want to go above and beyond our job so we can educate. Overall that's better than the alternative because the client gains a better understanding of what we do and how we help."
These foundational principles have been key to Elumynt's success and growth.
"None of our growth has come from outreach; we just get referrals. We grow by growing our clients, and because of the way we bill, if our clients succeed, we succeed," said Harris. "We do good work, and we know that if we keep our clients happy and communicate well then people don't leave. When people don't leave we don't need to replace them."
While Harris' path to his current success wasn't linear, he sees it all as part of the bigger picture.
"I have a unique educational path, not traditional - and that's tough. I was working, we had familial struggles, we had our first child, we had to pay for it all, and on top of all that I needed to go to school and do well! It's hard work, it's tough, but man is it worth it," said Harris. "The Bible says that the Lord's Word is a lamp unto my feet, and sometimes all you can see is just one step in front of you. That can be hard. But God has the ultimate plan and is directing our steps. If we knew everything that was going to happen we would be immobilized by fear."
Thanks to a strong foundation and a belief in the process, Harris takes each step confidently, and Elumynt maintains its strength as it looks toward what's to come.
"We've helped 13 clients over the last few years get acquired, and the largest sold for about $800 million," said Harris. "I'm really looking forward to the future."