Winner, winner, bacon dinner
Malone's team took first in the 8th Annual AVI Ohio Platinum Chef competition for 2018. Winners are (r-l) Nathan Martin, Emily Mattioli, Becca Klein, and Harvey Loveless.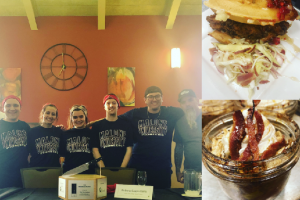 Before getting a job with AVI, Harvey Loveless had never cooked before. But now, the senior business major is a proud member of the two-time champion of the 8th annual AVI Ohio Platinum Chef winning team.
To get to the competition against Hiram College, the University of Mount Union, Kenyon College, as well as a $500-per-student prize, Malone's team first had to compete against their classmates on March 21.
Modeled after Iron Chef, each student team is charged with creating an appetizer, main course, and dessert with a secret ingredient; and also is advised by a professional chef. The intramural contest secret ingredient was watermelon.
"I really liked the watermelon pizza we made," said Becca Klein '18. "The contest challenged you to think outside the box and cook something that you would not make in your average Tuesday night."
The dishes created were char-grilled watermelon pizza, ahi watermelon with a soy reduction, and smoked salt chocolate dipped watermelon with a cucumber melon smoothie shooter.
The contest last Thursday included a special guest appearance by pig farmer James Anderson of Anderson Farms.
After leading last year's team to victory with secret ingredients of spam and cherries, Loveless was thrilled to be able to use the secret ingredient of bacon.
"We pretty much used it as a seasoning," said Loveless. "It was much easier to incorporate!"
The team - which also included Emily Mattioli '17 and Vincent Leone '17 on the intramural competition and Nathan Martin '18 at the state competition - wowed the judges. The menu? An appetizer of a chicken & waffle slider that had bacon incorporated in both the syrup and the waffle batter and bacon coleslaw; a main dish that featured a bacon-seasoned pork chop, German potato salad, and asparagus; and an apple bacon crisp for dessert.
"From the judges' reactions to the food we made, I knew we were going to win," said Loveless. "It was unlikely that any other team could have done better.
"I was in charge of making dessert, and the pig farmer's only comment was, 'Perfection,'" said Mattioli. "It was such a fun evening, and I learned so much about cooking."
Klein said she loves to cook, but had never before participated in a cooking contest.
"I really enjoyed the high speed, chaotic sort of feel that came with the contest," she added. "It was a great way to challenge myself, learn time management, and just a great time with friends."