Worldview Forum: Tony & Bart Campolo on "Why I left\Why I Stayed"
Wednesday, October 24 7:30 p.m. Johnson Center for Worship & Fine Arts Free & Open to the Public (Not a ticketed event)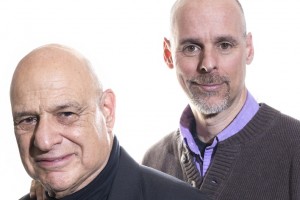 Malone University's next Worldview Forum will feature father and son Tony and Bart Campolo on Wednesday, October 24 in the Johnson Center for Worship & Fine Arts at 7:30 p.m., on the topic: "Why I left|Why I stayed." They recently authored the book, Why I left\Why I stayed: Conversations on Christianity Between an Evangelical Father and His Humanist Son. Moderator of the Forum is Associate Professor of Communication Arts Jason Moyer. Dr. Campolo also will speak at Community Worship on Wednesday, October 24 at 10 a.m. Both events are free and open to the public.
Leaving My Father's Faith from Matt Dean Films on Vimeo.
The book evolved after, over a Thanksgiving dinner, fifty-year-old Bart Campolo announced to his Evangelical pastor father, Tony Campolo, that after a lifetime immersed in the Christian faith, he no longer believed in God. The revelation shook the Campolo family dynamic and forced father and son to each reconsider his own personal journey of faith—dual spiritual investigations into theology, faith, and humanism that eventually led Bart and Tony back to one another. The New York Times describes Tony as "one of the most important Christian evangelical preachers in the last 50 years" and Bart as "a rising star of atheism." Learn more about the book & documentary at: https://campolofilm.com/.
Tony Campolo is professor emeritus of sociology at Eastern University and a former faculty member at the University of Pennsylvania. For 40 years, he led the Evangelical Association for the Promotion of Education, an organization which he founded to create and support programs serving needy communities. He is a graduate of Eastern College and earned a Ph.D. from Temple University.
More recently, Dr. Campolo has provided leadership for the progressive Christian movement, Red Letter Christians as well as, for the Campolo Center for Ministry, a program which provides support to those the church has called to full-time ministry. He has written more than 35 books and can be found blogging regularly on tonycampolo.org and redletterchristians.org. An ordained minister, Tony and his wife Peggy live near Philadelphia and have two children and four grandchildren.
Bart Campolo is a secular community builder speaker, and author who has served as the humanist chaplain at the University of Cincinnati since 2017. After graduating from Brown University and serving as an urban youth pastor in Minneapolis, he returned to Philadelphia to found Mission Year, a national service organization which recruits young adults to live and work among the poor in inner-city neighborhoods.
He served in street-level ministry from 2005-2014, when he moved to Los Angeles to become the first humanist chaplain at the University of Southern California. From there, he launched a podcast and a counseling practice, both of which now reach people around the world. He is married to Marty Thorpe Campolo and they have two children. He authored Kingdom Works: True Stories about God and His People in Inner City America and has coauthored several books with his father.
Moyer is chair of the Department of Communication, Visual, and Performing Arts at Malone University. He has earned degrees from Bluffton University (B.A.), Bowling Green State University (M.A.), and University of Iowa (Ph.D.). He has taught at Malone since 2012. He is married to Stephanie and they have two children, Wesley and Eloise.