A Malone education is the foundation for authentic leadership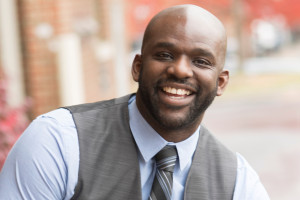 When the world is turned upside down, communities crave authentic leaders: those who can create genuine relationships while also producing results. Dan Owolabi '07 strives to be an authentic leader in his daily work as he encourages others to maximize their potential through service to others.
A history major and basketball player while at Malone, Owolabi wanted to become a high school teacher. He also quickly learned that the leadership opportunities available to him as a student could help him beyond the classroom.
"Malone gave me opportunities for real leadership. I served as a course assistant, resident assistant, and mentor to black underclassmen," he said. "I didn't just learn how Christ led others, but I had the chance to make mistakes and try it out for myself. When I became a teacher, the dedication to learning and excellence I gained from Malone helped me challenge my students to push themselves."
Now the founder of Owolabi Leadership, he desires to help leaders around the country become servant leaders after the model set by Jesus Christ.
"Countless faculty and staff at Malone nurtured my desire to teach and lead others, so starting my company was the next logical step in my career path," Owolabi said. "While teaching and pastoring, I frequently met leaders who struggled to lead as servant leaders. They didn't know where to begin. So I use the leadership foundation Malone gave me to pour into others. Greg Miller, in particular, was a remarkable mentor to me because he challenged me to understand people at a deeper level, which became easier for me when I looked past my first impressions of them and met them on their terms. He taught me far more than history—he modeled the essence of servant leadership."
Owolabi's latest book, "Authentic Leadership", aims to address how insecurity dwarfs and distorts the impact of leaders who have potential but lack confidence.
"Authenticity is an incredible antidote to insecurity because it gives you the confidence to lead with nothing to hide, nothing to prove, and nothing to lose," he said. "When I read scripture, I see that God gives a special responsibility to those who choose to lead, and I believe leaders have a unique role to play in a society. Their choices have the power to profoundly shape the thoughts and actions of people in their community. And when leaders grasp the influence they actually have with others, I help them realize their responsibility to use their influence for service rather than for status."
Owolabi is passionate about investing in the ministry and marketplace leaders of this generation and equipping them to serve those around them because he believes that when community leaders improve, everything improves.
"Authentic leadership makes it much easier to share your faith with the people you work with and lead," he said. "It allows you to be who you are without feeling the need to force people to change or believe as you believe. Part of authentic leadership is creating natural relationships with people who have different backgrounds and beliefs than you do. Leaders who prioritize relationships and find creative ways to connect across cultures can be very effective and endearing."