Alumnus of the Year Curt Thompson to speak at Malone University on mental health and holistic wellness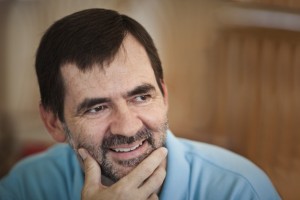 Author, Psychiatrist, and Malone Alumnus of the Year Curt Thompson '84 will speak at Malone University on the topics, "Depression, Anxiety, and the Quest to Feel Whole" and "Facing the Future with Boldness" October 12-13 on Malone's campus at 2600 Cleveland Ave NW. Both talks are free and open to the public.
The talk, "Depression, Anxiety, and the Quest to Feel Whole," a faith-based perspective on the intersection of mental health and our holistic wellness, will be offered Thursday, October 12 from 8 - 9 p.m. in the Stewart Room of the Barn/Randall Campus Center.
Dr. Thompson will be speaking on the topic, "Facing the Future with Boldness," at the Homecoming Community Worship on Friday, October 13 at 10 a.m. in the Johnson Center for Worship and Fine Arts.
Curt Thompson, M.D., is a psychiatrist and founder of Being Known, which develops teaching programs, seminars and resource materials to help people explore the connection between interpersonal neurobiology and Christian spirituality. He authored Anatomy of the Soul (Tyndale, June 2010), which demonstrates how insights from interpersonal neurobiology resonate with biblical truths about God and creation; and The Soul of Shame (InterVarsity Press, 2015). He has also produced a video series entitled Knowing and Being Known: The Transforming Power of Relationships, which provides a detailed journey through discoveries on the themes explored in his books. The Soul of Shame was named one of Hearts & Minds Bookstore's Best Books of 2015; and Dr. Thompson also received the Patients' Choice Award in 2015.
"First and foremost, Curt Thompson is a wise, kind and generous guide through the foul thicket of shame," wrote Dan Allender, professor of counseling psychology and founding president, The Seattle School of Theology and Psychology. "No word or topic sends people hiding more readily than shame, yet it is the brooding, merciless killer of joy in all our lives. Curt weaves biblical wisdom, neuroscience research and powerful stories into a covering that doesn't hide our shame but enables us to name what is keeping us from freedom and wonder. This is a magisterial work―thoughtful, compelling and transformative."
After earning his bachelor's degree in Chemistry from Malone, Thompson graduated from Wright State University School of Medicine and completed his psychiatric residency at Temple University Hospital. He is board certified by the American Board of Psychiatry and Neurology. His clinical focus has been the treatment of adults, adolescents, and families.
Dr. Thompson is married to Phyllis, a social worker, and they are the parents of two adult children. He serves as an elder at Washington Community Fellowship in Washington, D.C. His duties there have included preaching, teaching, participation in the fellowship's healing prayer ministry, and, with his wife, offering premarital counseling services.