Bringing her educational journey full circle
Education changed Melisa Carr's life. Through her work as the Adult Education Director for Ashland County-West Holmes Career Center (ACWHCC), she has the opportunity to change the lives of others, too.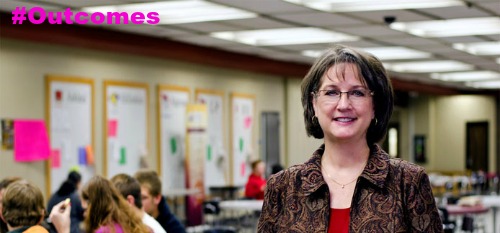 One day a scruffy man in his sixties with long hair and missing teeth came into her school looking for information about a construction class.
"I encouraged him to take the whole program," Carr said. "He told me, 'no, I'm an old man. I can't learn this stuff.' But the next day he signed up. In the next few months, he absolutely bloomed inside and out! He cut his hair, he got false teeth, and by graduation he was glowing."
At the ceremony, his wife told Carr that he had renovated their entire basement during the program. Within a few years, he won an ambassador award after gutting and renovating a house. Carr's own transformation was not quite so dramatic, yet certainly significant. She re-entered the workforce to pay for her children's college careers, and, since she had an associate's degree, was encouraged to complete her bachelor's degree. She finished that degree at Malone in 2010, and then her master's from Malone in 2012.
"I loved Malone," Carr said. "The curriculum in both programs challenged me - and I utilize so many of the strategies I learned in my everyday work. In the classroom, I had a professor who would put your test down on your desk, and pray before you began. As we were taking our tests, he would look around, and if he could tell that someone was struggling, he would bow his head and pray for them."
Melisa has moved up the ranks at ACWHCC - from financial records secretary in 2005, to director in 2012, particularly for her outreach to the local business industry. Her son Matt is now an electrical engineer, and her daughter Libby graduated from Malone with her BSN.
"Some believe that college is not for everyone," Carr says. "But I believe that education is for all."