Civic leaders propelled to seek solutions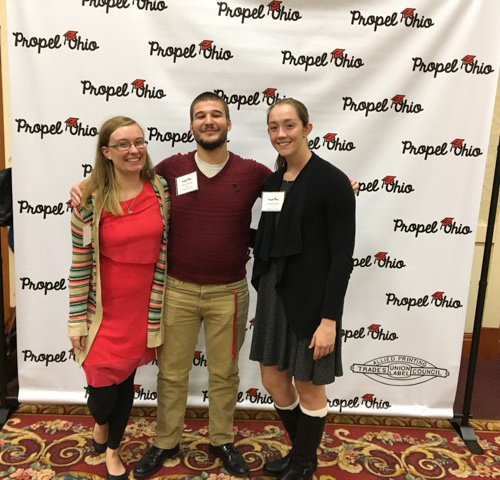 As the Fall semester was winding down, Interim Dean of the College of Theology, Arts, and Sciences James Brownlee took advantage of the opportunity to inspire three students before finals. The quartet took part in Propel Ohio, a leadership program that promotes civic engagement and encourages undergraduate students to become Ohio civic leaders. Students and state officials are afforded the opportunity for discussion on such topics as food security, educational inequities, and homelessness, and this particular event focused on child poverty in the state.
"Ohio has been home to innovators and leaders for generations, from presidents to poets, from the Wright Brothers to John Glenn," said U.S. Senator Sherrod Brown. "We want to prepare the next generation of Ohioans to continue their legacy."
Malone students were indeed inspired.
"Propel made me believe that I could be a part of something greater, and that I could use what I've learned in college to help people," said Sarah Neidlinger, a senior Psychology major. She attended a breakout session to learn more about Ohio's opioid epidemic featuring a member of Governor John Kasich's drug task force.
"What stuck out to me was just the weight of the topics at hand, and how little we think about childhood poverty on a daily basis," added Marina Rarick, a sophomore Integrated Social Studies major. "Each speaker was brilliant and compelling in bringing light to the difficulties these children face. The speakers and other students were concerned and passionate, and I was shocked by how much real empathy I felt when I left. It broke my heart, but I am thankful because our hearts have to break sometimes to make us want to effect change. As a future teacher, I want to be the good in my students' day, no matter what is going on at home."
For sophomore political science major Jeffrey Dieringer, the topic hit close to home.
"It's an issue that is in our backyard at Malone, as 1 in 4 Stark County children are hungry six or more months of the year, and 25 percent don't know where their next meal is coming from," he said. "I'm interested in pursuing a career in public policy, and I received valuable advice for a successful college and future career. I was also reminded that it's important to care about others and issues in your community no matter which career you pursue."