Coming full circle to meet a global need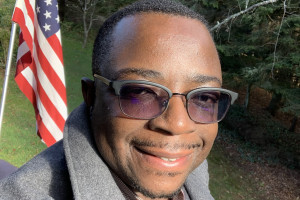 Tapiwa Katsande '23 was born in Zimbabwe, where he attained a bachelor's degree in history and economic history. He later continued his education in the United Kingdom where he received a master's degree and a Ph.D. in education. However, even with his doctorate and teaching experience, Katsande wanted to engage more than just students' minds.
"While studying, I taught at two universities and managed the student services staff at another institution," he said. "Working with counselors and student advisers made me passionate about student well-being. However, as a Christian, I felt restricted by the secular college policy where religion was not incorporated into any support services."
Katsande then began to research the role of spirituality in counseling and found empirical evidence of the effectiveness of Christian counseling.
"I was drawn to Christian-based counseling but could not find a university in the UK that embedded Christian values with academic excellence until I spoke to a former colleague and friend who works at Malone," he explained. "I looked on the University website and read its history and ethos and I was convinced that this was the place I had been looking for."
He smoothly transitioned into life and school in the United States because of Malone's faculty and staff.
"I received exceptional support from Melody Scott, dean of students, and Kara Kaelber, director of the counseling and human development program. The courses and professors have exceeded my expectations and boosted my motivation. I strongly feel that I chose the perfect institution for me," he said.
Upon his graduation, Katsande plans to turn full circle and go back to Zimbabwe.
"I hope to become a Christian counselor and eventually establish a not-for-profit organization that will help people in Zimbabwe who cannot access or afford counseling," he said. "Mental health in the modern world has become increasingly important and Zimbabwe is no exception. Sadly, there are very limited mental health services and the majority of people have no access to any mental health support. It is my conviction that coming to Malone is God's plan and that He will guide me through this endeavor as promised in Proverbs 16:3 and Proverbs 16:9."