COVID-19 Brings Music Department Together
In the wake of the global pandemic, every academic discipline has learned to adapt to restrictions and safety measures while still working to achieve excellence in the classroom. The Department of Music at Malone is no different, and the Pioneer Spirit Marching Band, Symphonic Band, Jazz Ensemble, and University Chorale have created unique solutions so they could continue to safely practice and perform.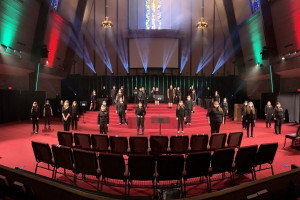 Supervised by Jason Wyse, director of bands, students in the band wear playable masks with a fold for mouthpiece access, and they use bell covers with MERV-13 filters to mitigate microscopic aerosols emitting from the instruments. There is 6-foot spacing within all marching band drills and seating formations, increased sanitization, and rehearsals are held outside whenever possible in the parking lot or tent. If they practice inside, there is a 30-minute time limit on group rehearsals, followed by clearing the room to allow for HVAC air exchange.

Likewise, the University Chorale and ensembles also practice social distancing, rehearse outside when possible, and wear singer's masks.

While sanitizing surfaces, social distancing, and air exchanging are all responsibilities added to the plates of both students and faculty, Katie Fanning '22 says the department has come together on a whole new level.

"We're still striving for the same goals we had before the pandemic, we're just moving about them more safely," she said. "We've become more of a team and we're learning through new experiences as no one has ever navigated a time like this before."

Despite never being close in proximity, these changes have brought a special bond to Malone's musicians.

"What I have enjoyed most about this semester is seeing the way our band students have worked hard in the face of so many challenges," said Wyse. "Our students love being in fellowship and making music, and their level of collaboration, teamwork, and positivity has been extraordinary. We have also had exemplary leadership from our student officers, who have created an encouraging, solution-oriented environment for our new members."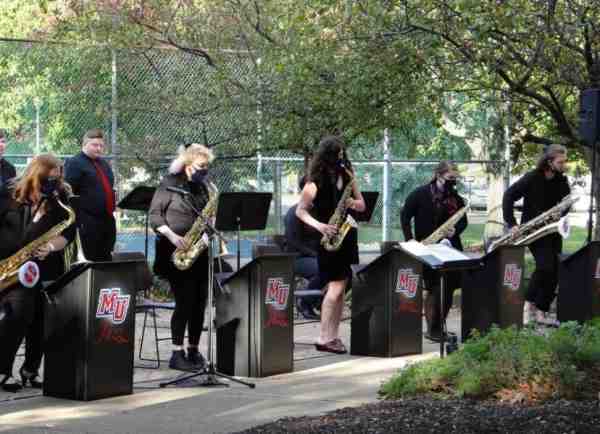 "The learning and the rigorous activities that we do either in private lessons or band have stayed the same," Fanning said. "Our relationships have grown, and while our marching band season was shortened and an in-person Christmas at Malone has been canceled in favor of recordings, the music department is doing a really great job with all the resources that they have to keep us safe."

Throughout the fall 2020 semester, the Pioneer Spirit Marching Band (PSMB) performed in one off-campus band festival, as the guest collegiate ensemble at the Edison High School "Tearin' Up the Turf" event, and performed an on-campus performance for the outdoor "Picnics, Piccolos, and Praises" collaboration with the University Chorale. The PSMB also held a recording session of their field show, "UpLift," at the Tom Benson Pro Football Hall of Fame Stadium. In October, the University Jazz Ensemble held an outdoor on-campus performance, called "Swingin' in the Breeze."

"I could not be any more proud of our students during this unique time," said Jon Peterson, director of choral activities. "While some institutions opted to not sing at all, our students maintained the utmost of respect for one another in maintaining healthy, while not always musically ideal, precautions to keep music alive and impactful at Malone."

Currently, the Symphonic Band, Jazz Ensemble, and choral ensembles are recording Christmas selections for a virtual series of brief musical vignettes entitled "Christmas with Malone," which will be shared throughout the month of December.