"Executive Dreamer" empowers middle schoolers
Executive dreamer, if you're looking for an official title.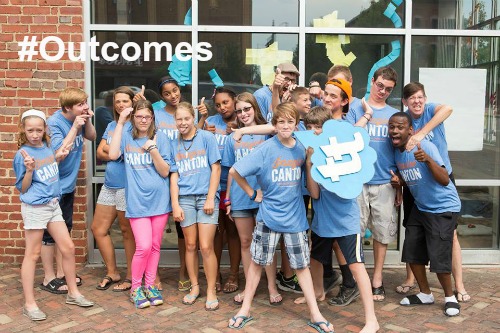 Harris is founder of TomTod Ideas, a non-profit organization that empowers middle school students to launch imaginative - and sometimes beautifully absurd - ideas that enhance the common good. Such as the BikeSmart: Stark County's Bike Share program, in collaboration with the Stark County District Library, which allows residents to use their library cards to borrow bikes.
"Middle school students are at the perfect intersection of passion and energy, and they haven't lost their imaginations yet," said Harris, a former middle school youth pastor. "TomTod leverages this unique space in time, connecting their ideas to mentors and communities."
When Harris was at Malone, he said, ideas about social justice and ordinary people bringing change to the world began to sink in. An HIV/AIDS campaign by World Vision especially hit home with him, particularly the idea that AIDS is not a stand-alone issue.
"There are all these other things that are at the root of it," Harris said. "Poverty. Clean water. Human trafficking. Healthcare. Issues that matter in the United States and in developing countries."
Harris believes that kids can make a difference in these issues. Some of TomTod's programs include:
Grasp. Go. Grow. - An in-school collaborative that walks students through ideation processes, where students combine research and field trips to develop 'others-centered' ideas.
Idea X - Six to 12-month long "experiential mentorship adventures" designed to launch students' ideas in real time.
Artsplorations - Art exploration workshops where students develop problem-solving approaches, brainstorming tools, and critical thinking skills.
Dreamoratories - Week-long summer camp collaboratives engaging students in their communities while creating new ideas using the assets and challenges they discover.
TomTod was recently awarded grants from Martha Holden Jennings Foundation, Arbonne Foundation, and Arts in Stark.
"We are thrilled to receive these grants as they not only fund core pieces of our budget but also affirm the good work that our students, volunteers, and staff enact in the community," said Harris.