Fostering community and integrity in the game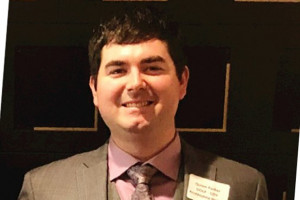 In addition to his golf team, the varsity team at Archbishop Hoban High School, taking second place in the state of Ohio, Quinn Parker '11 was recently honored as Coach of the Year for the North Coast League. His journey to this accomplishment started at Malone, where he studied business administration.
"I was recruited to play golf at Malone and chose to major in business after visiting with students who were studying in the field," he said. "Receiving a liberal arts education at Malone has allowed me to become well-rounded and opened many doors of opportunity."
One door for Parker was an internship, and then an associate position, at GDK & Company in North Canton. He now works as a financial associate who focuses on life, health, disability, and long-term care insurance. Additionally, he continues to serve as the head boy's golf coach at Archbishop Hoban.
Parker credits Michael Ophardt, chair of the department of business, as teaching one of the most foundational courses to have shaped his career.
"While I was at Malone, Dr. Ophardt taught a class on business ethics. In that class, we did a team project and researched the pros and cons of a controversial subject. It was a real-world exercise and an impactful educational moment. Discovering common ground and working together to learn from different perspectives is key in my field."
Parker now uses his education and career to make an impact in his community.
"When I started working at GDK & Company, I knew I wanted to give back to the community in some way. So, I decided to pursue coaching. I took the knowledge that I was given by my mentors to shape my coaching. Our program has built one of the best schedules in the state of Ohio and we have focused on creating a competitive environment where we can encourage mental tenacity. Our students are great, and their parents enjoy being involved with the team."
Through following his passion for service, Parker is excited to mentor the next generation.
"The most rewarding part of coaching for me is that it is mission-based. Golf is one of the best ways to learn life lessons; it is a game of integrity. Having the opportunity to develop young men into people of honor is incredibly rewarding."