From Storybook Land to the Court of Common Pleas
Michael Oster's first time on the bench was admittedly not as prestigious as the role he now holds.
The mock case over which the then-third grader presided, Goldilocks vs. The Three Bears, was pretty much open and shut.
But, Oster said, "I think my parents knew then I was going to go to law school someday."
Oster '99, who as an attorney argued a number of cases before the Ohio Supreme Court, is now a judge for the Court of Common Pleas in Butler County, Ohio, where he hears complex civil and felony criminal cases.
His father, a police officer, instilled in Oster a passion for the law from a young age. Oster first wanted to become a prosecutor to help fight crime and protect society – a dream he accomplished after graduating from the University of Cincinnati College of Law – the nation's fourth oldest continuously running law school.
In family life, Oster is married to Wednesday, also an attorney, and the couple has two children, Grayson and Delia.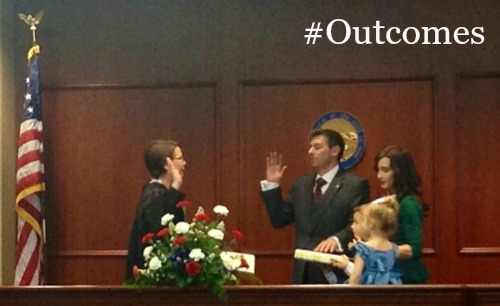 At Malone, Oster majored in psychology. A former NCCAA All-American Scholar Athlete and NAIA Academic All-American in soccer at Malone, he now coaches the Monroe High School boy's soccer team.
Also, Judge Oster was one of only two attorneys in the entire nation to be awarded the Board of Directors' Award in appellate advocacy from the Association of Government Attorneys in Capital Litigation.
"For the law to be a success," said Oster, "we need people who understand the law and who are capable of acting as a neutral referee."
Oster said he learned a great many lessons during his time at Malone.
"But the number one thing was always to glorify God in all things you do," he said. "I try to always remember that as I serve as a judge and be guided by the words in Micah 6:8, 'And what does the Lord require of you but to do justly, to love mercy, and to walk humbly with your God.'"