Hoover Foundation provides ongoing support for conservation education
Thanks to the generous support of the Herbert W. Hoover Foundation, Malone University has established a strong reputation for equipping students to understand and participate in ocean conservation.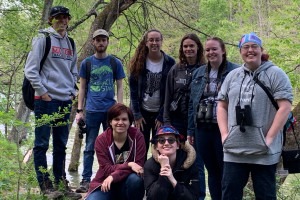 Earlier this year, Malone was awarded a marine science-related grant from the Herbert W. Hoover Foundation for the fifth year in a row.


"Here at Malone, our hope is to allow students and community members to understand the interconnectedness between water-related issues in Ohio and further downstream as it's critically important to caring for people and our planet," said Jason Courter, associate professor of biology and Au Sable Institute of Environmental Studies faculty representative.
Malone frequently draws students who want to study marine biology and benefit from opportunities like the annual shark-tagging excursion to the Florida Keys (made possible through the Hoover W. Foundation) or enrolling in summer marine science classes through Au Sable Institute of Environmental Studies. These enhancements to their Malone education equip them for their next professional steps.
"Because of the pandemic, we focused our efforts in Ohio this year," said Courter. "This has forced us to take a step back and envision ways that we can continue to build and strengthen our program with less extensive travel," said Courter.
This year, the Hoover Foundation funds supported:
Installation of eight refillable water bottle stations around campus

Sponsorship of the watershed exploration trip throughout Ohio

Marine-related research at Malone

Conservation internships by awarding eight students a Herbert W. Hoover Conservation Fellowship in the amount of $1200

Translation of Malone's marine science curriculum into Spanish for use in Latin America
Seven students and two faculty members participated in the May watershed trip, giving them a deeper understanding of how the natural resources are used and protected in our region.
"We had numerous, less formal discussions about water-related issues while hiking, kayaking, and wildlife-watching at Hocking Hills and Mohican State Parks," said Courter. "Students were extremely grateful for this unique experience and did an exceptional job representing the Herbert W. Hoover Foundation and Malone University."
When students were asked how their Malone education was enhanced by the support of the Hoover Foundation, they shared:
"My biggest takeaway from this program is that our world is more interconnected than we might realize," said Camryn Ottey '21, a zoo & wildlife biology and environmental studies student. "Small actions have the potential to make large impacts when it comes to caring for God's creation. I hope to take what I have learned from this program to create lasting change in our world."
"I hope to make an impact first by example, minimizing my daily habits that negatively affect the soil and water," said Matthew Kuyken '22, a zoo and wildlife biology student. "I also want to educate others about the importance of keeping our planet healthy so that they can create their own positive habits."