Innovating and Inspiring in Stark County and beyond
In an age where a traditional liberal arts education is being scrutinized by the general public, business leaders continue to sing the praises of the soft skills that students gain from it. The "Innovate and Inspire: Perspectives on Shaping Your Workforce" workshop was hosted by Malone on November 1st to begin a conversation between educators and local employers. The workshop was facilitated by Jon Peterson, associate professor of music, and Andrea Capuano '11, vice president of organizational development for ComDoc, A Xerox Company.
"Bringing community business leaders into dialogue with our students and faculty provided a great opportunity for learning, growth, and networking," said Peterson. "Someone asked me, 'How would you define success at this event?' and I said, 'To see the conversations that start here continuing beyond today's workshop.'"
Panelists from area businesses and local government officials were invited to speak on their experiences in the workplace. Deputy Mayor Fonda Williams, Attorney Corey Minor Smith, and CEO of ComDoc Gordy Orpitz all emphasized their shared desire to encourage more creativity in the world.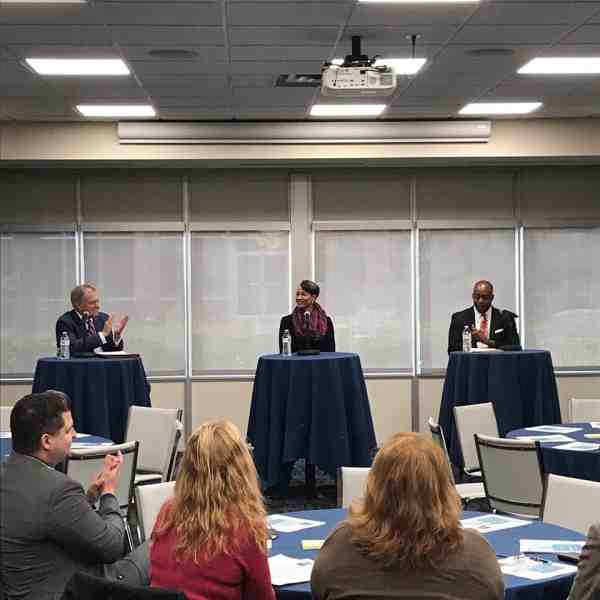 "There are no mistakes in creativity, because you have the support of others if something goes wrong," said Orpitz. He reinforced the importance of creative collaboration as the workshop transitioned into interactive breakout sessions with three facilitators.
Professor of business administration Jack Harris facilitated a breakout session entitled "Enhancing Team Development," which was a discussion about the elements of a good team and the different structures of groups. Local entrepreneur Josh Harris '99 hosted "Strengthening Problem-Solving Skills within Your Team," a conversation about the process of problem-solving and making room for creativity. Branch manager of ComDoc Steve VanHorn also led a discussion about "Fostering Creativity in the Workplace," which focused on specific elements individuals can bring to the workspace. Dynamic conversations led to sharing insights with the large group and current students were able to reap benefits from attending.
"I learned that creativity can be expressed in unexpected places," said Emma Wiseman '21. "Creativity begets creativity and surrounding ourselves with creative individuals helps to produce creativity in ourselves."
Malone has long had a reputation for graduating problem-solvers, as highlighted recently by the Repository's Strengthing Stark opinion series. Innovate & Inspire was yet another way to publicly celebrate the diverse ways Malone continues to prepare students to serve the church, community, and the world.