Inspiring Transformation
Yvonne Brake '98 doesn't see failure when she looks into the faces of the women in her homeless shelter's workshop.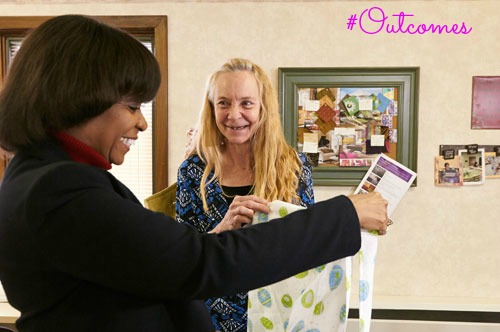 Brake has worked Haven of Rest Ministries for more than 25 years, and is on track to complete her Ph.D. next year. Her dissertation research explores the leadership development of homeless women.
Her twin Yvette McMillan operates the women's programs at the nonprofit, which include Lydia's Purse (with Maryann Designs), a multi-step program that teaches women marketable skills.
"Many times these women have had 'normal' lives before, and life circumstances, like loss of employment, divorce, and eviction, brought them here," Brake said. "They are mentored and given opportunities to change their lives, and we see them start to grow."
First, a woman is taught to make a bag that she keeps. Then, she fashions a bag to give away. Thirdly, she makes a dozen totes to sell. When she's finished, she has a graduation ceremony in which she receives a new sewing machine and supplies. Lydia's Purse then teams with Future Story to hire new seamstresses who learn advanced skills, financial stewardship, and business training.
Something happens as the women labor together in the cozy sewing room of the Marjorie Ruth Thomas Harvest Home – concentrating on their tasks as they stitch together thread and hope, purse straps and potential.
There is laughter as the women gush over newly arrived fabric – florals and pastels, paisleys and stripes. A smile of pride as they show off learned stitches and progress, filling orders for the future.
There is sobering reality as a director is paged to a crisis – a reminder that the journey to a new destiny is not easy; that as these purse makers are learning anew how to make a life, there are stitches that need ripped out and re-sewn.
Many women fear that there will always be a stigma attached to having once been homeless.
"But I want to present another side to the general public and the academic world – to show them who the women are," Brake said. "Women who are already valuable in God's sight."