Kara Kaelber earns prestigious counseling award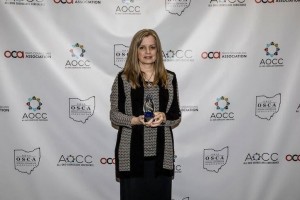 Kara Kaelber, Ph.D., program director for the Master of Arts in Education Counseling and Human Development program, recently earned the Dave Brooks Award from the Ohio Counseling Association (OCA). This award is given to an individual in the counseling field who exemplifies "the willingness to serve and take responsibility, while creating new paths in the counseling profession."
"It is such an honor to receive this award from the OCA," said Kaelber. "I am extremely passionate about the field of counseling and I am thrilled to have the opportunity to drive new movements that will help mold the future of the field."
Kaelber was the driving force behind implementing a fully online version of Malone's Clinical Mental Health Counseling track. This is the first fully online, CACREP-accredited clinical mental health counseling program in the state of Ohio and the interest in the program has increased significantly since it began this summer.
"The Online Clinical Mental Health Counseling Program is designed to meet the needs of graduate counseling students who want to maintain a healthy balance between their personal, professional, and academic lives," said Kaelber. "It was important to me that we got this program fully online so those who may not have the time to come to campus could still participate in the program."
Under the direction of Kaelber, the Counseling program has seen a significant increase in enrollment and continues to produce quality, sought-out individuals post-graduation. These noted accomplishments by Kaelber are just a few of the many and mirror the reasoning behind being selected as the recipient of the Dave Brooks Award.
"Dr. Kaelber is a leader in her field and at Malone," said Provost D. Nate Phinney. "We are proud of the work she is doing and grateful for this recognition of her peers."