Keith Burns '09 joins Malone University faculty
Keith Burns is coming home. The Minerva native and 2009 Malone graduate will return this fall as an associate professor of exercise science.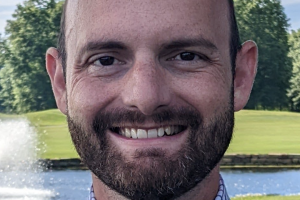 It is a journey that began when longtime cross country coach Jack Hazen recruited him out of high school to run for the Pioneers.

"I tease coach Hazen now because he was talking about retiring back when he was recruiting me," said Burns. "It's very special to come back to Malone knowing he is still here. My engagement in cross country led naturally to my interest in exercise science. I had thoughts of pursuing physical therapy, but as I started my senior year at Malone in the exercise science program, I realized I really wasn't called to the physical therapy career. Once again, it was coach Hazen who helped pave my way by introducing me to J. Larry Durstine who ran the exercise science program at the University of South Carolina (USC) and is also an alumnus of Malone and the cross country program."

After graduating from Malone, Burns spent two years earning his master's degree at USC before returning to Northeast Ohio to earn his doctorate at Kent State University. After a year of teaching as an adjunct faculty member at both Kent State and Mount Union, Burns took his first full-time faculty position at Walsh University where he served for six years.
"My move isn't about leaving Walsh," said Burns. "I had six good years at Walsh. It is about returning to Malone. This is a great fit for me personally and professionally. It allows me to share my faith with my students and it allows me to come back and build upon a very strong program that I was a part of as a student."

As classes begin this fall, Burns is looking forward to the familiar spaces on the Malone campus that captured his heart and attention as a student.
"I've been on campus a few times during the interview and for a few visits afterward," said Burns. "I did a sample lesson during the interview in a room I was in as a student. That was a good memory. I'm looking forward to my first day and getting to know my students. There are also faculty members who are still here who I had as professors. I'll enjoy being in meetings with them and getting to know them in a different way."
Burns is also looking forward to the challenge of building on the existing strength of the exercise science program.

"It's so exciting for me to come back to Malone at this time," said Burns. "I know I have big shoes to fill when replacing Steve Wirick. Steve was my professor when I was at Malone. I'm looking forward to growing the program. It's already a very strong program and I am looking forward to building upon the success Professor Wirick had during his time here."

Burns and his wife, Rachel, have two daughters, Molly, 6, and Anna, 3. They are members of the Dayspring Christian Fellowship in Massillon.