Malone University Theatre stages Next to Normal; hosts The Healing Tree
Malone University's Theatre is collaborating with numerous community partners to perform Next to Normal November 8-11 and 15-18.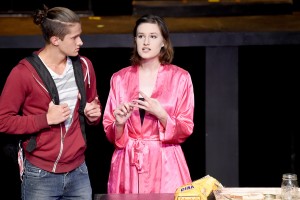 Malone University's Theatre is collaborating with numerous community partners for its Fall production, Next to Normal, to shed light on the important topic of mental illness.
"I, along with the Malone University Theatre, would like to give a voice to the voiceless by breaking the silence on mental illness, addiction, suicide, grief and recovery by sharing an unflinching and unfiltered story about a dysfunctional family," said David Lee, the student director of the show. "It is my hope that Next To Normal will start this crucial conversation within our community at Malone and in Canton, Ohio by advocating for those who suffer from mental illness, while also acting as an agent of truth for those who experience mental illness every day. I believe it is our responsibility to supply anyone that comes to our performances with resources from community organizations so they know they are not alone in this journey. Theatre was created to mirror our lives and the lives of those around us and I'm honored that we are using the Malone University Theatre to tell a story of truth of hope and light!"
The show, which runs November 8-11 and 15-18, will feature professionally facilitated conversations after each performance. Additionally, "The Healing Tree," a participatory public art project, will be available in the Founders Hall Lobby. The Healing Tree is a collaboration of many of the community partners and is an invitation to raise health awareness, reduce social stigma, and support helpful dialogs around mental health and addiction issues facing the Stark County Community. The Healing Tree was sculpted by Michele Waalkes '07, and its leaves bear personal messages of recovery and inspiration.
Community partners for the play include Arts in Stark, National Alliance on Mental Illness of Stark County, Stark Mental Health Addiction and Recovery, Foundations, CommQuest, Heartland Behavioral Healthcare, Child & Adolescent Behavioral Health, F.A.T.H.E.R.S., Coleman Behavioral Health, Aultman Hospital, Crisis Intervention and Recovery Center, Inc., and the Stark County Community Action Agency.
"The show is very powerful, and I believe it will have a positive impact in our community," said Tammie McKenzie, Director of Theatre.
"This collaboration offers great interdisciplinary connections, community service connections, ministry connections, and connections with key professions," added Provost Nate Phinney. "This is the fine and liberal arts at their best."